Marble Mountains (Non Nuoc)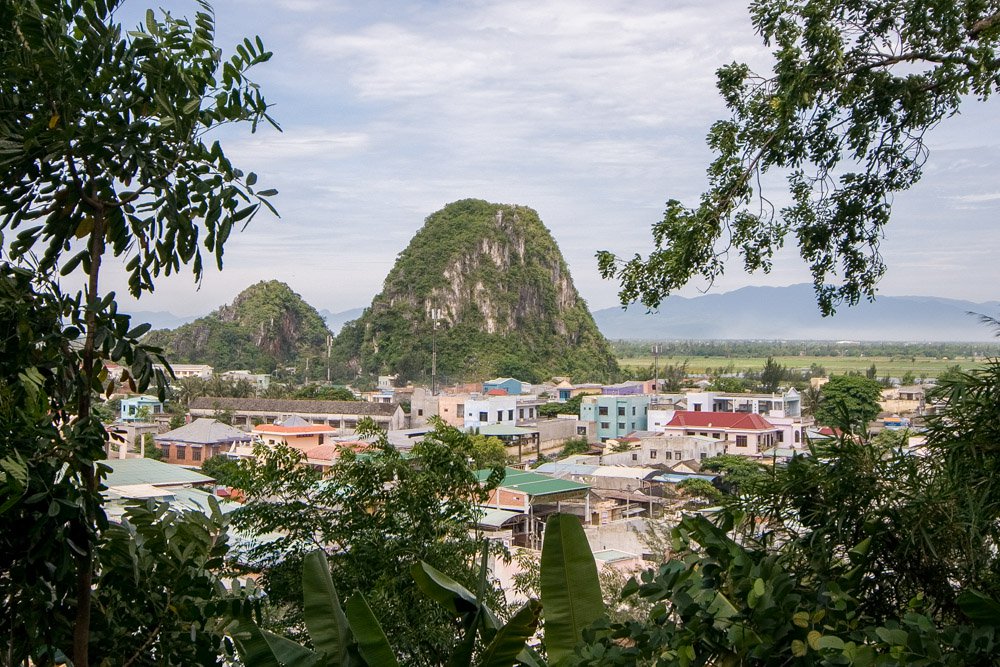 Marble Mountains (Vietnamese: Ngũ Hành Sơn; "Five elements mountains") is a cluster of five hills located are 9km south of Da Nang, on the way to Hoi An. The five marble hills or "mountains" this formation are named after the five elements (Ngũ Hành) of the ancient oriental philosophy; Kim Sơn (mountain of metal), Mộc Sơn (Mountain of Wood), Thuỷ Sơn (Mountain of Water), Hoả Sơn (Mountain of Fire), and Thổ Sơn (Mountain of Earth). There are a number of caves, grottos and Buddhist temples on the mountains with nice natural entrances and tunnels. The temples make the area a popular pilgrimage site

Most of tourists go there to climb the Mountain of Water (Thuỷ Sơn). This hill has many caves and pagodas dating from the early seventeenth century. Hundreds of quite steep and mostly natural stone steps lead to the peak. After some 150 stone steps you will arrive in front of the Tam Quan Gate. Beside of the gate is the Riverview Tower (Vong Giang Tower). From this tower you can see Mount Kim Son, the Truong Giang and the Cam Le rivers, and surrounding coastal strip. The tower is dated back to the Emperor Minh Mang in the 18th century.

The walking path leads further to a number of pagodas and caves. The Van Nguyet Grotto, embedded between peaks with an open hollow as nice place for visitors to stop and drink a coconut. The Van Thong cave with a round and slightly slanted shape toward the top with an ancient stele and a large statue of Buddha. Behind the statue is a (quite narrow, but worth a try) pathway to the peak which is also called "Road to Heaven". You should feel fit enough to cling to rocks to climb up. At the end of the pathway, you will see a one-meter diameter hole at the top of the cave. Passing through this hole, you will be rewarded with a panoramic view of a marvelous area. Going down from here you will arrive at the Linh Ung Pagoda. This large pagoda looks out over the sea. It was once a bamboo hut. Under Emperor Gia Long, the firt of the Nguyen Dynasty, the pagoda was built and named Ung Chan. It was expanded later under Emperor Minh Mang. In 1841, Emperor Thanh Thai changed its name to Linh Ung. The pagoda hosts many Buddha and Bodhisatta statues. Other caves to visitare Ngu Coc Cave (Lantern Cave, narrow, small, and very deep with lots of eye-catching lava) and Am Phu Cave. This cave is high, wide and deep, the access is down a scenic cliff. Some 30m down, there are high trench, large stone pillars and a narrow cave with bottomless wells said to connect to the sea. The down pathway with more than 100 stone steps leads to a village full of stone carving shops.

The area is famous for stone sculpture making and stone-cutting crafts. As direct rock extraction from the Marble Mountains is prohibited, materials are now being transported from quarries in northern provinces like Thanh Hoa.

To reach the Marble Mountain from Da Nang, you can join a tour (a little bit rush) or take a taxi (around 70000 Dong) or a back seat on a motorbike (around 15000 Dong). Local buses also stop here.