Son Tra Peninsula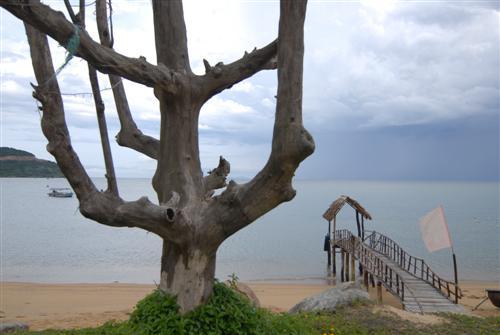 Sơn Trà Peninsula is about 10km North East of Da Nang city centre and 693m high above sea level. The peninsular is about 60 square kilometer large.

Sơn Trà is connected with Da Nang via the longest suspension cable bridge in Viet Nam, the Thuan Phuoc Bridge, which was just opened for public use on July 19, 2009. The new bridge brings the peninsular closer to Da Nang and certainly will help to develop the peninsular Son Tra to become an attractive touristic destination. The best time for you to visit Son Tra is in summer when you can have a good time at some charming beaches such as Bai But, Bai Rang or go picnic in the natural preservation area with plenty of plants as well as attractive streams.

Bai But is famous for its alluring sceneries where there is a conforming arrangement of the mountains, the beach and the sea. You can both contemplate continual waves reaching the shore and enjoy the delicious seafood in some restaurants nearby. Next to Bai But is Bai Rang, a white beach with many species of coral. One can travel by boat to see the coral reefs or stay in the house-on-stilts gazing at the sea.

There're many myths about this peninsula. Long time ago, a legend claimed that fairies have been often observed landing on the top of Son Tra Mount to play chess. That is thought to be the reason why there's a big flat stone like a chess board there and that place is called Ban Co Peek (Chess Board Peek). From here you can take a look at the whole Da Nang city and the bow-shaped seashore forming Da Nang Bay. If you have a chance to climb here at dawn or sunset, the scenery is fantastic. The clouds are all pink and appear so close to you. The sun is hidden but the light reflects on the sea surface and makes the water glistening. Another story is that the young fairy nymphs were so attracted by one of the most elegant beaches that they secretly landed there to play and bathe. To remind everybody the myth, people called this beach Tien Sa (Fairies' Landing). Nowadays, tourists can stay at a resort named Tien Sa located on where the myth took place. This resort is regarded as an ideal place for relaxing, sightseeing, meeting etc…

Sơn Trà, where the word "nature" is concretely defined, is one of the most promising destinations when coming to Da Nang city.