Lang Co Beach, near Da Nang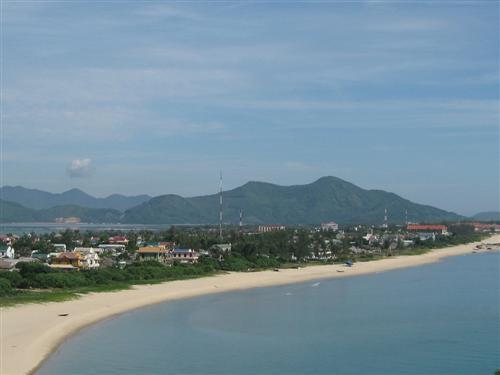 Lǎng Cô Beach lies between Da Nang and Hue. Lang Co itself is a developing touristic area, where the natural beauty of the lagoon, the long beaches and the fishing village is still mostly untouched.
On the way from Da Nang to Hue, just after passing the Hai Van Pass, while descending from the pass the very nice village of Lǎng Cô with its nice white sandy beaches appears. Lang Co is an attractive, peninsula stretch of palm-shaded sand with turquoise lagoon on one side and very long beaches facing the Pacific Ocean on the other. It's a great places where lots of visitors make a lunch stop or spend the night.
Here you can take a rest from the Hải Vân pass in a beachside seafood restaurant in the village or watch fishermen inventorying the catch of the day. The Sao Bien Restaurant lies on the lagoon side is quite good in seafood specialties (grill baby squids here are well-known). From March to September swimming is good by warm weather. The village of Lǎng Cô is definitely worth a short – or even a long – stop before the trip takes you further to Huế.