Sun River Hotel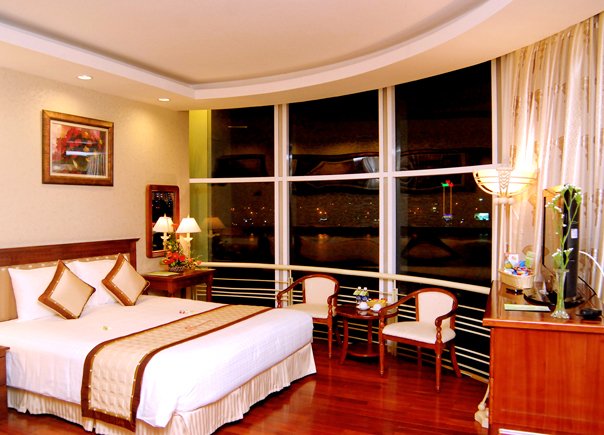 Sun River Hotel is a three-star hotel in Danang. It is located on the banks of the charming Han river and has 50 rooms. Staying at Sun River Hotel guests will fully enjoy a memorable lifetime experience. With the exterior designed by modern architecture and the interior by international standards, the rooms offer views of the charming Han River and the city. Shiny polished timber-floors complement the elegant and comfortable furniture in the rooms, features equivalent with those of an international three star hotel ...
At Sun River Hotel, guests can enjoy many facilities such as: bar, coffee, restaurant, etc. In addition, the hotel offers a variety of Asian and international fares in romantic restaurants and bars. Guests can enjoy a professional service and beautiful views of the Han river with its fresh air and the city with all its hustle and bustle. IT IS ONLY HERE THAT YOU WILL FIND EVERYTHING! Accommodation Superior room Contemporary style never loses its appeal. With furniture, wooden floor rooms create a warm atmosphere and relaxation in Superior, plus river peaceful and beautiful city of Da Nang, visitors will wake up and breathe in the cool river breeze refreshing, enjoy relaxing moments in this wonderful VIP2 room If you love the river and always dreamt of experiencing a luxurious vacation, Vip2 river view is the perfect choice for you with its romantic atmosphere surrounded by the riverbank and golden sunshine.
The rooms are also well equipped with facilities and equipment that meet international standards VIP 1 room At the best location of hotel, these high-class Vip1 will offer you the highest standards of comfort, luxury, pleasure and satisfaction on your special getaway. With scenic view of the river and mountain, Vip1 rooms will bring to you the best relaxation Other services Internet ADSL, WIFI ( Cable and wireless) Tour services, air ticket booking Laundry and mini bar Business center Clerk service (system of fax, telephone, email, internet serving 24/24) Bar & Coffee 24 hours services 24 hours security Motorbike rental Services conference, seminar Restaurant From the restaurant on the 8th floor with seating capacity of between 90 and 100 guests already serve. Guests will enjoy foods of Western and Asian, especially for the traditional Vietnamese foods at the same time.
Moreover, our restaurant has the fresh outside space, guests can view freely overall of city. From Bar & Coffee at the top of hotel, visitors will have chances to enjoy refreshing drinks, views the panorama of city as well as sees the beautiful streets by Han river. Conference The large and luxurious conference room with the capacity of 90 seats will be very suitable for meeting, workshop, training course,etc.