Gerbera Hotel Hue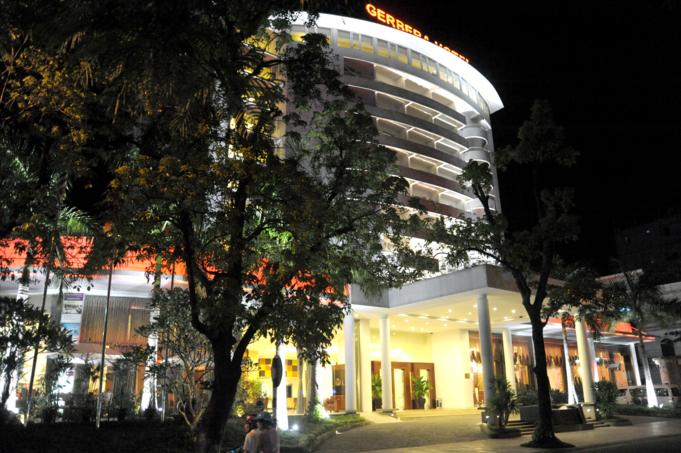 Gerbera Hotel Hue is designed in a unique combination of Western and Asian architecture, offering genuine Vietnamese hospitality. The 108 rooms and suites with international standards, services and facilities offer one of the best views of the Perfume River and the Citadel. From the hotel's location right in the heart of Hue City you can discover all places of interest just within a short walking distance. Accommodation Gerbera Hotel Hue offers 108 modern rooms designed in a unique style and equipped with all amenities to make you feel comfortable.
Room types * Standard Room * Corner Suite * Silver Suite and Golden Suite * President Suite Room features: The air-conditioned rooms are comfortably appointed with modern amenities such as mini bar, King bed, two satellite TVs, safe deposit box, tea and coffee making facilities, in-room kitchen, Wifi internet access, spacious private balconies, separate living room furnished with sofa and wooden desk, wooden and carpet floor, spacious bathroom, separate bathtub and shower, vanity mirror, hair dryer, bathrobes and slippers, river view or city view. Facilities and Services Le Bordeaux Restaurant The restaurant is located on a terrace on the 2nd floor of the hotel and offers a casual and friendly dining atmosphere.
Here you can enjoy a variety of menus which will surely satisfy everyone and every time. Private dining rooms are also available. Lobby Bar The bar is located on the ground floor and it's the perfect setting to enjoy a relaxing drink or cocktail while admiring daily life of Hue people. A wide selection of drinks, wine and beer, tea or coffee and snacks is served accompanied by melodious music background and luxurious interior decoration.
Sky Bar Situated on the 11th top roof of the hotel, the Sky Bar is an ideal palace to relax and unwind your hectic day. While sitting at a warmly and unique designed bar you can enjoy an outstanding panoramic view of the famous Perfume River and Hue City. Weddings If you want to make your wedding unforgettable and you are looking for an exceptional venue, our glamorous Paloma ballroom will be the right decision for you. The ballroom can accommodate up to 450 attendees and together with the hotel's exquisite cuisine and impeccable services your wedding day will be perfect. Meeting Gerbera Hotel Hue offers 2 boardrooms (VIP1 and VIP 2) on the 11th floor for 8 to 14 guests. The boardrooms feature a nice view over the city and can also be used as luxurious dining rooms. One spacious meeting room without pillars combined with the Sky Bar area for tea break can accommodate up to 120 guests.