CenDeluxe Hotel Tuy Hoa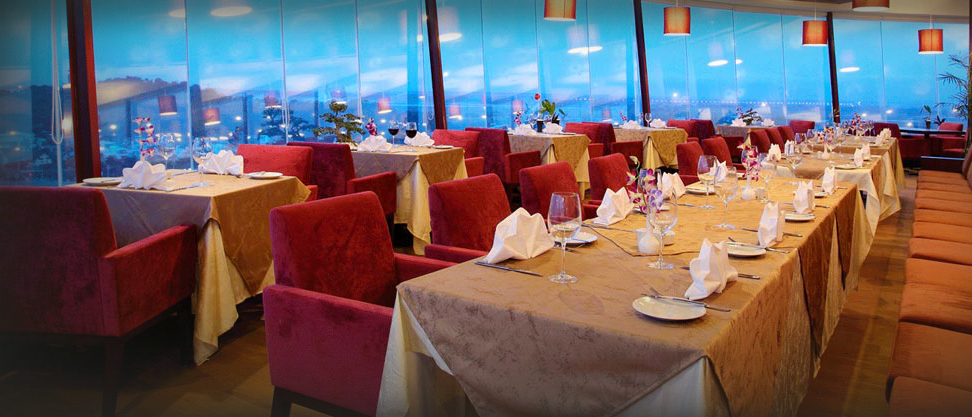 This is the first 5 stars hotel in the town featuring 218 exquisite rooms with 4 categories: Premium, Deluxe, Suite and Presidential Suite. With the professional Butler Service, CenDeluxe Club, Le Cake, a large swimming pool, a spacious spa and massage area, excellent cuisine and a state of the art fitness centre, the CenDeluxe Hotel offers the most extensive guest and conference facilities ever seen in this part of the country. Next to CenDeluxe Hotel is the Thuan Thao Eco and Entertainment Center. The guests can enjoy dining with different styles from Vietnamese and Asian to Western cuisine. The music stage, night pub, cafeteria shop, supermarket, sports center, spa, and Thuan Thao Land as magic world with many kinds of games and activities will be found here.

Location CenDeluxe Hotel Tuy Hoa is situated in the midst of the Business and sizzling Entertainment district of Tuy Hoa City which offer a vast variety of restaurants and entertainment establishments.

Accommodation CenDeluxe Hotel Tuy Hoa boasts of 218 well-appointed guest rooms and suites; the sophisticated interiors of the hotel are designed by a French Interior Architect and provide a distinguishable ambience to the entire property.

* Premium and deluxe rooms: These two categories are being designed to meet your comfort during your stay. * Suite rooms: Designed spaciously and equipped with luxurious amenities and services to meet your comfort throughout your stay whether you are on business or leisure at CenDeluxe Hotel. * Presidential suite: adjacent to CenDeluxe Club, with decorations and design that exhibits finest details in a contemporary style that perfectly captures never-ending luxury in a relaxing comfortable ambience with space of 456 square meters. Exclusivity is enhanced by private access to the CenDeluxe Club located on 15th floor and perfect for business or casual gatherings.

Complimentary Services * Welcome services by butlers at the Airport upon arrival * "Meet & Greet" services by Guest Relations Officers * 24 hours shift duty, butlers are always on standby to provide their impeccable services should needs arise * In-room Tea & Coffee Making Facilities * Welcome drink at Lobby Lounge * Mineral Water * Access to Swimming Pool * Access to Fitness Centre

Facilities & Services

CenSpa It's time to wind down; rejuvenate yourself with a full Spa Treatment performed by licensed and professional trained Spa Therapists. Balinese, Thai, Vietnamese, Shiatzu and Hot Stone Massage are just some of the many massage styles available in our serene CenSpa.

Banquet & Meeting Rooms From International Conferences and World Summits to Corporate Conventions and Exhibitions, the CenDeluxe Hotel Tuy Hoa proudly offers facilities and services that rival anywhere in the world for your next successful meetings in Tuy Hoa. The sophisticated designed Mimosa Conference Hall offers state-of-the-art facilities and seats up to 200 delegates. The Mimosa Conference Hall caters to any type of seminars, conferences, conventions, parties, weddings and exhibitions. The Osaka Meeting has three interconnecting rooms with high-tech equipment. Furthermore, the prominent Multilingual Conference Center can accommodate up to 1,500 guests.

Saigon Restaurant At our all-day-dining Restaurant, the International and Asian distinguished culinary delights will cater to the most selective of gourmand aficionados. To complement superior menu selections, the hotel offers an elegant Wine List fit for a Connoisseur composed of a diversity of wines from renowned producers in Australia, France, Italy, Spain, Chile and South Africa.

Pipas Sports Bar Take Pizzas, Pastas, and homemade specialties as per original Italian recipes in a relaxed and exciting atmosphere at our elegant balcony bar on the second floor, while enjoying different sports activities including billiards, dart etc.

Sky Lounge and Terrace Indulge in mouth-watering dishes and tempting cocktails, while enjoying 360 degree panoramic view of the city and listening to smoothly contemporary music selections.

Lobby Lounge The Lobby Lounge is the ideal venue for the afternoon HI-Tea and snacks or choice of favorite aperitif. Listens to soothing piano music in a relaxing ambience or treat yourself to affordable wines either by the bottle or by the glass.