Ba Na: Mountain Station near Da Nang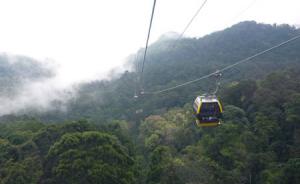 It is easy to understand why Ba Na is considered as nature's reward to Da Nang. Coming to this place is an opportunity to enjoy clear and green air of unspoiled forest and to contemplate spectacular views not seen in any other place. Located in the Truong Son mountain range, Ba Na of Hoa Vang District recently earned two recognitions from the famous Guinness World Records for the longest (5,042m - 16,545ft) and highest non-stop cable car system (1291.81m - 4,239ft above sea level). This recent claim to fame is a big thrust for a developing Nation like Vietnam that is rich in amazing destinations. But Ba Na gained more than recognition. The attention made many realize that the there is more to discover in this amazing place than the interesting cable ride.

Looking back from 1901, French colonialists discovered the spectacle of this hill station and decided to settle in Ba Na. They started building villas and soon, the place became a French town with a main road to the mountain peak lined with over 200 private houses and villas. By the late 1940s there were several hotels, restaurants, a stadium, a market, a medical station, an opera house, security and police stations. But the war in 1945 coupled with natural disasters brought the buildings and infrastructures into devastation, leaving the entire town a cluster of tattered ruins.

It took long until Ba Na was reconstructed to re-live the old French visage that once stood. Today, visitors who come to this place will discover several pretty villas, newly built hotels, and bungalows. Each one has its own flower garden with many types of aristocratic flower that Frenchmen left during the 50 past years. More developments took place in the recent years. French-style estates, a Buddhist cultural site, wine cellars and a number of villas, hotels, bars, tennis courts and badminton courts were restored and built. But perhaps the best improvement ever introduced to Ba Na is the modern cable car system which earned its way to the Guinness Records' list.

Before, tourists had to travel along a steep mountain pass to get to Ba Na. With the introduction of this achievement of technology, visitors can just sit back, relax and enjoy every moment of his journey in the world's longest and highest non-stop cable car while admiring stunning views from below. The Ba Na Cable Car carries takes guests to the mountain tops within 20 minutes. That is definitely more convenient than over an hour road travel to reach one of Vietnam's most marvelous destinations.

More than Just a Ride

Being enclosed in tiny cars and pulled by powerful cables from the foot to the top of the mountain is already an exciting experience in itself. But more spectacle unfolds are visitors make their way to the peak. With the clouds at mid-height of the mountain, the peaks are always clear. The breathtaking views of the lush jungle and waterfalls along the way are enough to make one breath deeply and believe in paradise on earth.

More discoveries will awe visitors when they reach the top. Five routes designed for tourists wind their way through thick forests, springs and waterfalls, and many vestiges of French colonial structures. Newly-built French-style hotels including Hoang Gia, Le Nim, or Morin offer super comfortable accommodation, and there are trekking tours to explore the mountain.

With its geography, Ba Na enjoys a unique climate condition that is a refreshing and perfectly suited for a mountain resort setting. Visitors can enjoy 4 seasons in one day: spring in the morning, summer in the afternoon, autumn in the sunset and winter at night.

Recognized as a nature reserve by the government in 1986, Ba Na possesses several beautiful forests with green pine hills. The old fir trees and ferns that were several dozen meters tall evokes awe which only nature can. With over 543 flora species that grows in its soil, the area is like a colorful spring garden with numerous flowers specific to the sub-temperate climate. Here, tourists would be fascinated to find wild hortensia and orchids, along with the rest of unspoiled and beautiful wild flowers.

Ba Na By Night Resort is one place you shouldn't miss if you decide to climb up this amazing hill. With its Meditation Garden, the Lavande Hotel, and many small paths covered with colorful flowers, the resort offers tourists more to do. Join a friendly camping fire, drink can wine or sing and dance around the bonfire to fight off the evening chill. Or choose to simply listen to the breath of the mountains and forests, and just come in close contact with wild nature. This is one place where all your worries in life will likely disappear, making way for bliss, delight and pure contentment over what nature has to bring.

A gem, indeed, and only found in central Vietnam. Today, Ba Na is more becoming the pride of the Vietnamese and of the Da Nang people in particular. It is a must-see for anyone who sets foot in Da Nang. For anyone who wishes to escape the exhaustion of daily life, try spending even a night in Ba Na. You'd be glad you did.