Silk Lanterns - Asian Elegance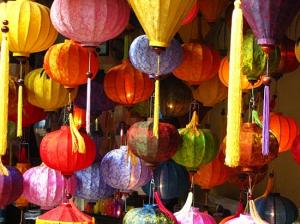 Hoi An is a significant part and place in history, having been a trading center between such places as Netherlands, Japan and China centuries ago. It is so historically important that it was recognized by UNESCO as an official world heritage.
Today, Hoi An still reflects the "openness" of its culture and influence from other cultures in its architecture, food, and handmade products. When it comes to handicrafts, the silk lantern is Hoi An's pride. The streets of Hoi An are filled with silk lanterns decorating almost all kinds of establishments such as houses, gardens, restaurants and shops. Silk lanterns create a particularly festive yet at the same time elegant atmosphere which makes them a popular piece of interior decoration. Moreover, they are affordable, priced between $1-$30.
Silk lanterns are also flexible in design and structure, making them easy to transport. The traditional and famous colors are red, orange, yellow and blue, but they also come in different shapes such as lotus or even a bird cage. White silk lanterns are usually decorated with bamboo leaf imprints, flowers, or Chinese calligraphy. Silk lanterns are usually made in the afternoon, by skilled craftsmen on the sidewalks of Hoi An. A silk lantern is made by several people through different processes. A bamboo frame is first made according to the shape you desire.
Another person will complete that frame with a small string. Another person is designated to cut silk into small parts to stick into the frame. When a quarter of the frame is covered, the artisans have to wait for the glue to dry before covering another quarter of the frame. Thus, the amount of glue used to make a silk lantern is crucial so as not to leave any stains and destroy the appearance of the famous handicraft. At about 6:30 in the evening, Hoi An becomes a different, beautiful sight with all the new silk lanterns lighting up the streets, creating a mysterious yet vibrant and peaceful atmosphere over the old quarter.