The Last Musical Instrument of Nguyen Dynasty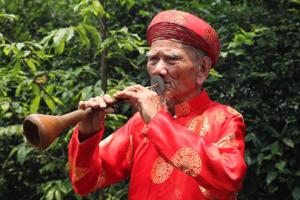 Mr. Lu Huu Thi, 101, was a member of the royal court music orchestra under the courts of Kings Khai Dinh and Bao Dai. He is now the last musician of the monarchial period in Vietnam.

Mr. Thi now lives at a small house No. 250, Dang Tat road, The Lai Thuong village in Huong Vinh commune, Huong Tra district, the central province of Thua Thien Hue. At the age of 101, he is still sound in mind and body.

Mr. Thi was born in 1910 in a family of musical tradition. He learnt secrets in playing various kinds of traditional musical instruments from his father and became a member of the Hoa Thanh troupe, which belonged to the Hue royal court music orchestra of the Nguyen Dynasty.

"I could play dan nhi, dan tam, dan nguyet, dan ty ba, phach, phach tien, tam am and trong ban (traditional musical instruments) at the age of eight. When I was 15, I joined the court music troupe to serve King Khai Dinh and then King Bao Dai (the last king of Vietnam). I can still play most of pieces of music that the kings often requested," Mr. Thi said.

He said there are different pieces of Hue royal court music to use for different occasions, for example "Van Tho" for the birthday of the king, "Dang Dan Cung" for welcoming foreign diplomats or "Kim Tien" for parties.

Mr. Thi said that royal rules were extremely strict. Musicians had to learn and remember all of the rules and royal rites.

"We had to stand in a straight line. If you stand on a red ant-hill, you have to stand still until you finish your performance. Sometimes the King requested our service at mid-night," Mr. Thi recalled.

According to the musician, King Khai Dinh loved Hue royal court music very much and he could play dan tranh. King Bao Dai only requested music for parties and ceremonies.

"King Khai Dac often wore casual clothes at parties. He was never accompanied by women. He only enjoyed food and shook his legs in tunes. Sometimes we had to play music for half of a day, until we were exhausted but we dared not to move," Thi said.

King Khai Dinh sometimes called an instrumentalist to the forbidden palace to play music with him. He stood on a big chair, in front of a dan tranh. The instrumentalist sat on a lower platform. He had to play several melodies firstly and they accompanied the king's music.

Mr. Thi said that King Khai Dinh loved a piece of music named "Dai Tu" the most. This piece of music is very difficult to play. He cannot play the entire work now.

"It was very difficult to play music with the king. Sometimes the king suddenly stopped playing music and left the room, and mademe sweat because I did not know if I had offended him. I asked the guards and they said the King was sad," the instrumentalist recalled.

Mr. Thi said King Khai Dinh sometimes gave him money to share with his troupe members. After the king passed away in 1925, the troupe was nearly broken up. In 1931, King Bao Dai came to throne and the troupe was resumed.

The troupe didn't have to serve the King frequently but it had to serve parties. After the August Revolution (1945), the troupe was dissolved.

Hue royal court music felt into oblivion. In recent years, it has been gradually resumed thanks to a state-funded project. Mr. Thi has greatly contributed to the project.

In 2003, Hue royal court music was recognized as one of the 28 world intangible cultural heritage of the mankind. Mr. Thi was invited to be the advisor for the Hue Royal Court Music Troupe.

At the age of 100, Mr. Thi is trying to teach all secrets of Hue royal court music to his descendants. His four sons are member of the Hue Royal Court Music Troupe.

"Hue royal court music is my life. A day that I can't play music, is a day I feel uncomfortable. To preserve Hue royal court music, we have to train a team of young artisans who really love and live with it," Mr. Thi said.

"Mr. Thi deserves to be called a 'living human treasure'. We have proposed competent agencies to grant him the title Outstanding Artisan," said Truong Tuan Hai, Director of the Theatre for Hue Royal Traditional Art.