Hue Festival - Highlight of Tourism Year 2012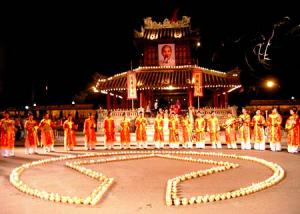 Hue Festival will be the highlight of next year's National Tourism Year. The festival will be held on April 7-15, 2012, according to a press conference in Ho Chi Minh City last Sept. 15.

Hue Festival is a bi-centennial international event, and next year's celebration will be the seventh anniversary. The theme of next year's celebration will be "Cultural Heritage with Integration and Development." The nine-day festival has lined up many activities for the important event. Among these are Vietnamese performance arts, with special emphasis on Hue royal arts; ethnic minority culture presentations; an impressive 20 other performances from no other than leading art troupes from five continents all over the world; re-enactment of one-of-a-kind royal ceremonies; and grand and unique community events including Imperial Night with royal banquets, the Nam Giao Offering Ritual, A Peaceful World dance performance and music, all infused with lantern installations. That is not all. The Resonance of the Vietnamese Spirit, a dialogue of drums and percussion instruments, will also be a part of the momentous event, as well as a film festival entitled Week of Historical Vietnamese Films.
Business Community with Cultural Heritages, a seminar with such theme; art display installations; Children's Festival; Hue Poetry Festival; and of course spectacular food offerings, are just some of the other activities planned for the festival. The annual conference of the League of Historical Cities is also part of the grand celebration. This will be the 13th conference and the three-day event will be participated in by 80 city members from 55 countries across the globe. During the Sept. 15 press conference which discussed next year's grand festival, Festival Director Phan Tien Dung stated that the Hue Festival of 2012 is expected to draw in 2.5 million tourists, a considerable increase compared to the 1.7 million visitors in 2010. Dung added that tourists will not run out of places to stay since there are a more than 200 hotels in the province, not to mention hundreds of guesthouses and other infrastructures, a total of more than 28, 000 to accommodate both local and foreign tourists. According to Director of Vietnam National Administration of Tourism Nguyen Quang Tuan, the Hue Festival of 2012 is part of a series of tourism activities to be held in the central region next year.
Other activities in the tourism series include Charming Vietnam Gala (held by Thanh Nien Media Corp.), the Southeast Asia Chess Tournament, the Central Gastronomy Festival, the 2nd International Choir Festival, Vietnam Cave Exploration Month, and many more festive and colorful events to celebrate tourism. All of these activities will be held in Thua Thien Hue as well as in the neighboring provinces. Tuan further stated that all of these activities are carefully planned in the hope of further promoting and developing Vietnam's tourism all over the world. In fact, just in the first eight months of 2011, Vietnam already welcomed and entertained almost four million foreign tourists. Add this up with the local tourists and imagine what Vietnam has to offer in terms of its tourism sector.