Tran Thuong Temple Festival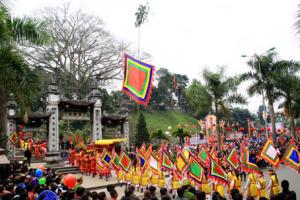 Built between 1228-1300 in honor of the great Vietnamese general Tran Hung Dao and the soldiers who laid down their lives to fight the invading Mongols during the 13thcentury, the Tran Thuong Temple Festival was celebrated on Sunday in the northern province of Ha Nam along with thousands of pilgrims who wanted to commemorate and be part of the historic structure. General Dao was well-known for putting up a granary for the army during that time of war.
To honor this big accomplishment, local residents set up food distribution ceremonies at the onset of the lunar New Year. They also teach young people the importance of saving and stockpiling food for emergencies. This year, 80,000 parcels were distributed to 21 areas surrounding the temple. They were delivered by elders dressed in traditional costumes. People from other regions, foreigners and locals alike, religiously attend the festival to receive food parcels that serve as lucky charms for the New Year.
The small portions of food symbolize "the wish for a peaceful and prosperous life." This activity is considered the most important and anticipated event of the festival. Vice-President Nguyen Thi Doan is one of the loyal participants at the historic festival along with the other government leaders. Visitors from different places came to the venue even a few days before the celebration to witness the cultural activities and folk games which were also part of the festivities. But Tran Thuong Temple Festival is not the only ceremony honoring the great General Dao. Tran Temple Festival in the northern province of Nam Dinh is another festivity remembering the good leadership of Tran Hung Dao and his brave army. Since such celebrations are considered momentous and attract a great number of visitors from all over the world and therefore prone to accidents and other public order dangers, officials this year have established new rules and regulations to make the ceremony more peaceful, safe and therefore more meaningful and memorable.