Ada festival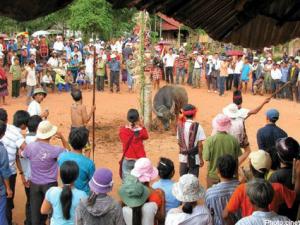 The Pa Co ethnic minority people in Vietnam hold the Ada festival after harvest to thank Heaven and prepare for the next crop.

Village elder Le Hong Chien from Hong Van commune, A Luoi district, Thua Thien-Hue province proudly compares their Ada festival to the New Year Festival of the Viet people. The village chief and elders meet first in their communal house, then prepare a jar of Can wine (fermented rice wine drunk out of a jar through bamboo tubes) and declare that the Ada festival will begin one week later.

At the meeting they also decide whether to hold a big or small Ada festival. The Pa Co will kill a buffalo and hold a big festival if they reap a bumpy crop. If not, they still kill a pig and goat instead to thank Heaven for what they've gained from the fields.

"The Ada festival is held to celebrate the harvest and to wish for another good crop," explains village elder Le Hong Chien. "In the festival, they thank Heaven and worship the god of rice and other fertility gods of the river, stream, mountain and forest."

Moong is the main hall in the Pa Co traditional communal house which is used for sitting and worshipping. The village chief gathers all families and their plants in that hall. According to Pa Co beliefs, each plant has a soul and they wish all the souls of the crop to come and enjoy the offerings.

Plentiful offerings are prepared. During a large Ada festival, the village offering tray is comprised of the best parts of the buffalo. During a small festival, the offering is just a pig, a goat or a sticky rice cake besides a jar of Can wine prepared by the village elders.

Before the worship is held, each family makes a good mix of chicken meat to develop a new sense of harmony and equality in the community.

After that, they take the tray of offering to the front yard to worship the gods of the Earth, rice and plants and wish for good luck in the next crop.

The chicken meat, divided into three parts - first for the village chief and village elders, second for men and third for women and children - must be eaten up to please the gods who are believed to be witnessing the meal.

An important ritual is held later with the village chief standing in the main gate of the communal house, and crowing three times like a pray for blessings from the gods of the river, stream and forest.

After the ritual, the village chief and elders visit each family to wish for a plentiful crop.