Water & Rice festivals in Soc Trang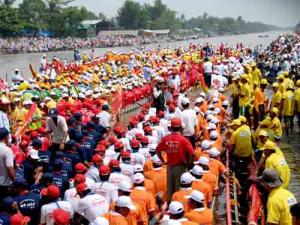 Oc Om Boc, the annual Water Festival of the Khmer people, will this year coincide with the Vietnam Rice Festival in Soc Trang Province, home to a large community of the ethnic minority group.

The nation's second Rice Festival will take place in the Mekong Delta province on November 8-11 this year to glorify the commodity, which is the lifeblood of the nation.

Oc Om Boc, the most important annual event of the ethnic minority group, is dedicated to the moon and organized in the province every year on the fifteenth day of the tenth lunar month. The main purpose of the ritualistic ceremony is to pray to the Moon God for abundant crops and fish from the rivers, as well as good health for villagers.

The three-day cultural event features a traditional boat race with dozens of long and narrow boats competing. The navigation of the boat, called ghe ngo, requires great skills because it can easily be capsized. The boat is long enough for about 40 rowers sitting in two lines and the team leader. The final sees dozens of ghe ngo race to the finish line amidst cheers, claps and clamor of the thousands of people lined up on the banks in Soc Trang City.

The race attracts visitors from both Soc Trang and other provinces and cities.

The second Vietnam Rice Festival, hosted by Soc Trang, will include exhibitions, fairs, seminars and scientific workshops; activities to promote investment, trade and business relations among domestic and foreign partners, cultural and sports activities which are typical of the southern province.

Involved in organizing the national event are the ministries of Agriculture and Rural Development; Industry and Trade; Culture, Sport and Tourism; Information and Communications; Vietnam Food Association and other Government agencies.

Organizers have confirmed that more than 20 countries have agreed to join the festival, including Canada, Chile, India, Indonesia, Malaysia, Myanmar, the Netherlands, Russia, Thailand and the U.S. The foreign partners will take part in food pavilions, exhibitions, cultural activities and workshops.

Soc Trang City, the capital of the province, is 60 kilometers south of Can Tho City – the Mekong Delta's hub. Some of the places to visit are Kh'leng Pagoda, Clay Pagoda, Im Som Rong Pagoda and the Khmer Museum. Soc Trang is 230 kilometers from HCMC.