Experiencing Vietnam's Tet Festival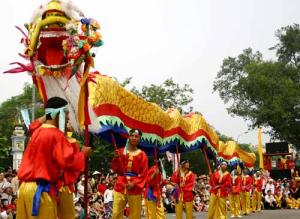 Because of its significance in the country's cultural identity, the Vietnamese New Year, more known as Tet, is considered the most important and popular festival in Vietnam.

Celebrated at the same time with the Chinese New Year around late January or early February of every year, particularly on the first day of the first month of the Lunar calendar, it is among those times when the customary practices of the Vietnamese are most visible and appreciated. Ancestral worshipping, pilgrims and family reunions are commonly observed.

The country's general atmosphere is characterized by positivity and hope. The bustling streets are filled with people busy with shopping for gifts and decorations. Vietnamese who have been away usually return to their families to celebrate the event. But perhaps, how substantially rooted Tet have been in the lives of the Vietnamese could be seen how even those who have settled in other countries will never forget the fine customs handed down through generations.

For the Vietnamese people, it is both an occasion and opportunity of renewal and rejuvenation, as every deed during the three days of Tet will greatly influence the coming twelve months. With that, they take steps to correct their mistakes, patch up differences, pay off their debts, keep things in order and avoid committing undesirable deeds. Paying homage to the ancestors is given great importance as well as spending time with the family. People wish each other with luck, prosperity and good fortune.

Preparation of traditional Tet food is extensive, and traveling to the country during this time could be a wonderful experience for any tourist. Apart from the local cuisine, which some could only be tasted during Tet, the parades, dance performances and the rest of the traditional practices could be an extraordinary encounter. As the festival often stretches up to a week because of the many other celebrations that occur before and after Tet, coming to Vietnam during this holiday season could be among the best experience one can ever have in Vietnam.

With just a few days away for the next Tet, which is marked on January 23, 2012, Vietnam is slowly beginning its preparations for welcoming the year of the Dragon. Upcoming Tet dates include February 10, 2013 for year of the Snake and January 31, 2014 for the year of the Horse.