Vietnam - Panoramic and Delicious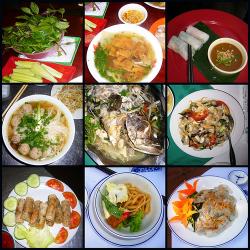 Vietnam is a world-famous tourist destination for its rich historical, cultural and commercial diversity. It is a vacationer's paradise as one can see breathtaking views of mountains, lakes, beaches, flora and fauna, and even commercial spots totally worth-seeing.
But aside from its truly beautiful natural spots, Vietnam is also known for its exotic cuisine. Northwest Vietnam in particular is home to several all-original, sumptuous meals tourists and locals alike just can't get enough of. In fact, these wonderful creations have become so in demand that they have made their way to the famous menus in city restaurants and cafes in Ho Chi Minh City and Hanoi. The Roasted Highland Carp is just one of these fast-becoming popular Northern Highlands cuisine. The area is in surplus of the fish and residents have taken advantage of this benefit by turning it into a mouth-watering, irresistible dish.
In this particular recipe, the fish is properly cleaned and rubbed with salt for flavoring. The body of the fish is then stuffed with chopped garlic, onion, coriander and mac khen, a condiment the region is known for. Mac khen is a seed known for its naturally salty, piquant flavor. Most commonly known as jungle pepper, it has been used for centuries as an alternative to salt. The next step is placing the fish in a skewer and roasting it in the traditional way, over hot coals, where the fire releases the strong but temptingly aromatic and delicious flavor of the fish mixed with the yummy spicy herbs. In earlier times, tribesmen had to travel far and wide through several forests at a time, all on foot.
This required packing food that would store for a long time before going stale. This gave birth to sticky rice cooked in a bamboo tube, or more popularly known as the Com lam Tay Bac. The ends of the bamboo are capped with leaves to keep the food in and for aromatic purposes as well. The bamboo tube is then steamed above a fire to cook the dish in a delicious and healthy mixture of the rice and bamboo. Today's version of the dish is a mixture of plain rice and glutinous rice stuffed in a cloth bag during long journeys through the woods.
Ga den H'mong, or black chicken, is derived from a special kind of bird known as a "silkie" in the West because of its thin, white feathers. The bird is also famous for its tender meat and strong yet enchanting flavor. The dish is cooked by stewing the bird whole the traditional way, in medicinal leaves, coming out entirely black from claws to beak.
This recipe has become so popular that according to a 2007 New York Times article, "it has even become something of a delicacy in the Big Apple." All of these hearty Vietnamese cuisine is best served with ruou, or the traditional mountain wine. It is made by fermenting sticky rice or corn mixed with medicinal roots and herbs placed in earthen jars. You can enjoy it best by sipping it through long slender straws of bamboo tubes. Moreover, some restaurants in Hanoi and in the West offer these delectable dishes with accompanying authentic decorations in their dining place and even traditional costumes for the staff, making one feel like being transported to a magical, delicious journey of history and cuisine.