Lau Mam - Adventure in a Bowl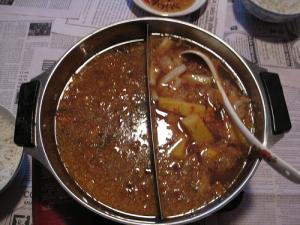 Vietnamese cuisine is always fresh and healthy with soups and hotpot dishes as central part of their diet. But probably with every type of dish laid in Vietnamese tables, fish pastes have long played huge roles in adding flavors to their menu. Among its variety of dishes, the Lau Mam (mixed vegetables and fermented fish flavored hot pot) is a much-appreciated specialty in southern Vietnam.
The major ingredients for the hot pot include fresh eel, beef, shrimp, cuttlefish and other species of fish, various kinds of vegetables. This dish is particularly enjoyed since so many alternatives are possible, offering a wide array of delicious tastes. With the variations you can do with Lau Mam, there could be no accurate description for its taste. But in general, Lau Mam is a unique mix of meat ingredients, vegetables and spices thrown into a single hot bowl of wonderful flavors. The most typical flavor of the hot pot is created by fish sauce made from Sac fish (Trichgaster pectorakilis), a kind of sweet-smelling and greasy fish, the spicy taste of red chili pepper and the sweetness of other ingredients.
Preparing the dish includes fresh food-stuffs such as snake-head fish, "keo" fish, pork, peeled shrimps, eel, beef, and so on, accompanied with at least 10 kinds of vegetable, sometime amounting to 24 kinds of vegetable. They include water-lily, eggplant, balsam-apple, straw mushroom, bean sprouts and chili among others. When boiled together, the flavors of the sauce mixed with the citronella, chilly, vegetables, fish, shrimp and meat explodes to an indescribable aroma and very pleasantly unique flavors.
Though some Westerners may be taken aback by the smell, tasting the dish would change the entire story. The Lau Mam is then scooped and laid out into bowls of soft noodle soup - - - simply, beautifully - - - and truly delicious! But there's more to every bowl of Lau Mam apart from wonderful treat for your taste buds. As every diner is free to explore and add in the flavors desired, the excitement and adventure a single Lau Mam dish is another of its wonderful feature. Restaurants usually accompany their servings with plates of between ten and 24 varieties of fresh Vietnamese roughage. The selections include mint, basil, water mimosa, lotus stem, water lily, chive, eggplant, straw mushroom, bitter melon, the list can go on. On top of that, diners are presented with platters of raw shrimp, eel, fish and squid to simmer in the stew. With that, every single bowl is entirely different from the other.
Though considered a specialty of the south, Lau Mam can be found everywhere in this country - from corner shops to grand and expensive restaurants. For around VND180,000, a large party can share a huge bowl of Lau Mam. With every bowl, it isn't just the flavors that are shared. Count in the Lau Mam experience, the wonderful adventure and the opportunity to pamper one's taste buds. Now, Lau Mam is popular in all corners of Vietnam. What used to be a common meal for farming communities some hundreds of years ago is now a delicacy that is even often served to special guests. Hungry enough? No worries. Like I said, it's everywhere in Vietnam. Just follow your nose and it will take you to one of your most exciting Vietnamese dining experience.