Quang Nam's Chicken Rice - a Delectably Spicy Treat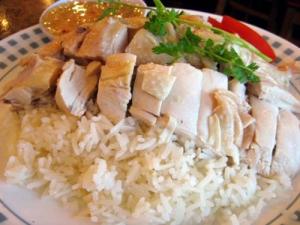 A visit to Quang Nam province in Vietnam's South Central Coast would never be complete without enjoying their specially prepared local Chicken Rice dish. Described to be remarkably spicy, and may bring an unsuspecting diner to a momentary surprise - - - but it is more of a pleasant surprise even the most discern diner would be glad to experience. All the pleasures that come with dining on a plateful of chicken rice specially prepared in this part of the country is owed to the region's distinct way of cooking which is so much apart from the sweeter blend of cuisine common in the South and the saltier variety of dishes unique to the country's North as well. And even though chicken rice is as common in Saigon, their way of preparing the dish could be more identified with Chinese-style cuisine. Quang Nam's chicken rice, with its unique spicy character, tempting smell and its simple yet very appetizing presentation, is just so Vietnamese!

The Quang Nam Chicken Rice is a simple dish in its own sense, with every served plate appearing to be a plain combination of rice and chicken, flavored with sauce and topped with pickled carrots. Having your first mouthful will tell a different story and it would be easy to conclude that the dish is no ordinary dish, but a humble display of an exceptional cooking prowess only to be found in Quang Nam. And as simple as it may look, it takes a lot of expertise to cook an exemplary chicken rice plate.

But finding someone who had mastered the dish is not at all difficult in Quang Nam. The chefs along the region's street-side eateries happen know the dish by heart and have their own special ways of preparing the chicken rice that would satisfy anyone's taste buds. Expert chefs would prefer using free-range variety of chickens from countryside gardens over industry-raised poultry. Foreigners may be more accustomed to the tender and fleshier commercial chicken meat, but the dense and thicker character of native poultry is most ideal to create the perfect Quang Nam Chicken Rice dish.

Chefs usually shred the chicken meat into small pieces and mash them along with crushed onions, Vietnamese coriander and the other spices to allow the flavors to sink in. The marinated chicken is then skillfully boiled, creating a spicy and tempting aroma, yet retaining the flavors and consistency of its meat. After boiling, the broth is saved and is used to cook the rice, turning it to yellow while making it taste and smell like chicken itself. When done, a portion is scooped into a plate and then topped with the flavored chicken shreds. Papaya, peppermint and salted onions are used to garnish the entire dish, then served along with a very spicy chili sauce. The combination of the different ingredients further create a wonderful blend of flavors between the saltiness of the topped onions, spiciness of the Vietnamese coriander, pepper and chiles, sourness of the papaya and the sweetness of the chicken and rice. All these pleasant tastes fused together in a single meal would make anyone truly savor his dining experience.

Among the many towns in Quang Nam, Hoi An and Tam Ky are said to be the two best places to try the dish. Special as Quang Nam's cooking already is, Hoi An even has its more distinct cooking style that still retains the same character with most Central Vietnam cuisine, but is greatly unique compared to its neighboring towns. A famous restaurant in Hoi An, called the Ba Buoi, is most-sought for by locals and tourists alike because of its great-tasting Chicken Rice that is superior in flavors compared to other eateries in the town and province. In Tam Ky, their chicken meat is flavored with garlic, chili, chicken, ginger, Vietnamese coriander and shallots; which is also common to other towns. But people find their chicken rice more special because of the slightly different cooking technique which brings stronger flavors to every plate they serve.

For any chicken lover, a plateful of Quang Nam's chicken rice would definitely be a delightful Vietnamese dining experience. Central Vietnam, especially in the interesting province of Quang Nam, holds remarkable historical and cultural sites that await every curious visitor. The wonderful attractions will never cease to amaze any tourist, but taking a moment to sit down and enjoy a plate of Quang Nam's chicken rice will definitely conclude one's visit to Central Vietnam as truly complete.