Bidoup-Nui Ba National Park: Home of the God Water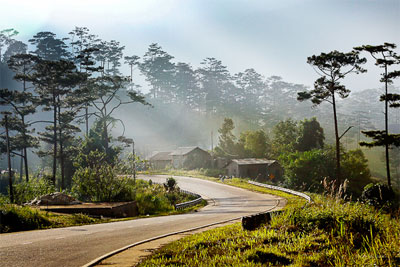 Bidoup-Nui Ba National Park is a favourite tourist destination because of its rich flora and fauna. But perhaps most of all, because this is where the legendary Thien Thai Waterfalls can be found, most popularly known as the dwelling of the God of Water, or even the "Country of the Immortals." Bidoup-Nui Ba National Park is located between the two mountain ranges of Lang Biang and Bidoup.
It covers 64,000 hectares of land and is situated between 650-2,288 meters above sea level. Its large collection of flora include 96 primordial plants, about 300 species of orchids; pine forests; coniferous trees; bamboo groves; evergreen trees; and grasslands, while some of the animals that can be found at the park are yellow-cheeked gibbons, black bears and vampire flying frogs. The gibbons can be seen in the early hours of the morning while the flying frogs were discovered in 2010. The famous Thien Thai Waterfalls is located specifically at Da Nhim Commune, Lac Duong District.
It is situated about 35 kilometers from Da Lat City. It can be reached through Road 723 which connects Da Lat and Nha Trang. It has an average temperature of between 16-18 Degree Celsius. Bidoup-Nui Ba National Park is a haven of thick forests, breathtaking scenery, fresh air and serenity, pure nature at its work. Moreover, it is also enveloped in mystery as according to a local legend, there was once a pregnant K'ho woman who went to the forest to pick up fruits when she went into labor while doing so. She gathered some leaves and arranged them to form like a bed where she laid down and gave birth.
She wrapped her newborn baby in the same leaves and went back home. When the villagers saw her and her newborn child, they were happy and celebrated their safe homecoming. In honor of the brave mother who delivered her baby all by herself, the village patriarch named the leaves "crieu" which the ethnic minority group then named their newborns after.
A large number of both domestic and foreign biologists frequent the national park to study its diverse ecosystem. The park also offers trail trekking which are guided by different tribe members, giving visitors an opportunity to have a first-hand interaction with various aboriginal culture and nature as a whole. At night, tourists can relax and enjoy along a campfire and gong dance performed by K'ho girls wearing brocade dresses. They can also socialize with the locals while drinking the obligatory ruou can, wine drunk from a jar through long bamboo straws. There are no hotels in the area, but guests can stay in the villagers' homes and rent a room for only VND300,000 (US$15) a night. When it comes to food, Asian and Western cuisines are available, but it is best to try out the local delicacies to have a taste of authentic food.