Binh Dinh: The Beauty of History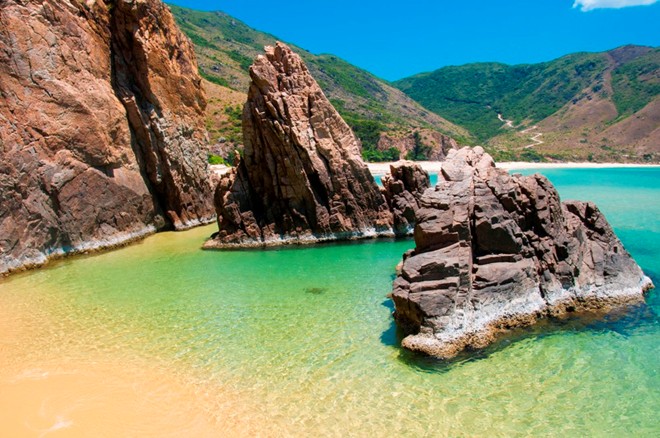 The Central Province of Binh Dinh is home to natural beauty and vast history. It is a unique but ideal combination of ancient structures, untouched beaches, dense forests, royal relics and even the Vietnamese martial arts Binh Ding Gia, just to name a few. Discover Binh Dinh to realize why it is a growing tourist destination.
Nui Ba (Ba Mountains) or Pho Chinh Mountains is regarded as one of the most beautiful summits in the province because of its lush valleys and flowing streams. It has 60 mounts, some of which have become tourist attractions: Hang Rai Mount (South East); Heo Mount (North East); and Chuong Mount or Chuong Son Mountain. The latter is the highest at 900 metres and looking like a giant upside down bell, thus its name: Chuong means bell in Vietnamese. The Vong Phu Stones is another favourite tourist destination because of its story which dates back to a hundred years ago. The story goes that there was a young wife and her son who waited for the husband to come home. They waited for so long that they turned to rocks. Vong Phu means Waiting for Husband and has become a token of love and loyalty for family. Relics of the Chiem Capital of the Cham Kingdom up to the Tay Son Revolution can also be found here. It's an important piece of Vietnamese history because it was the headquarters of the Vietnam revolutionaries during the war against the French and American conquerors.
Ham Ho or "Yelling Cellar" got its name from the local people who came to this one-kilometre downstream part of Kut River in Tay Son to scream and pray for rain during the dry season. In the flood season, the place is filled with flying fish which have become an amusement to tourists because of their nature to swim against the current. The rest of the year is teeming with lush forests, flowing streams and high cliffs. It is also known for its strangely-shaped marbles which are given names like Chess Stone; Flying Fish; and Gates of Life and Death (or Giant's Feet).
Thi Nai Lagoon is the largest in Binh Dinh with a 10-kilometre length and four-kilometre width. It is abundant with many kinds of fish and is said to have a fairy land-like atmosphere. It also has a mound in the middle which resembles a temple so that the local residents made a pagoda on it to pray to the god of water.
Ky Co Island is perfect for those looking for privacy and quiet. There are only a number of thatched huts and no stores or eateries whatsoever so that visitors have to bring their own food and water. Nhon Ly Market is the place to buy supplies before heading to the island, but it has also become like a tourist destination in itself because it has spectacular beaches.
Hoang De Citadel is a significant historical piece in the province being the last capital of the Champa Kingdom during the reign of the Cham Kings from the 11th – 15th centuries and occupied by the Nguyen Dynasty in 1799 in which it was renamed Binh Dinh Citadel. It was built in the later part of the 10th century when Emperor Yangpuku Vijaaya ruled but destroyed in 1814 by the Nguyen Dynasty and transferred to a different location. Today, remnants of stone walls, moats, granite-tiled roads, square wells, statues, towers and pagodas are still visible at the citadel.
Nhon Ly Dunes is another favourite tourist destination because of its amazing sand which is elevated at 100 metres and the many adventurous activities visitors can enjoy here.
The Cluster of Champ Towers are 13 towers grouped in eight, each with a unique architectural design. The Twin Towers is composed of one big and one small tower built in the late 12th century. The Banh It Tower complex is designed with the one-of-a-kind Cham architecture. Canh Tien Tower is characterized by spear-shaped arch and simple walls. Long Cham Tower is a complex of three towers. Cham Pa Towers contains relics of the Cham Pa civilization. Duong Long Towers have three spires and carved brick stones shaped like traditional Cham Pa animals: elephant, eagle and garuda The other towers are: Binh Lam; Thu Thien; Phu Loc; and Cham.
Swallow Island is named as such because it is home to two particular kinds of the bird: Yen Co and Yen Sao. Yen Co is bigger and use grass to build their nests and place them on top of mountains. Yen Sao is small and build their nests using saliva and position them to stick out from caves and cliffs. The island is also called Yen Island or Phuong Mai Island and is also famous for its mountain which is shaped like a dinosaur standing guard to protect the place from strong winds and big waves.
Ghenh Rang is popular for many sites such as the Lion's Head, Waiting Statue, Lying Elephant, Bear Rocks and Chong Islet in the South part of the area. The Queen Beach can be found on the North area, famous for the legend behind it which goes that in 1927, King Bao Dai reserved the whole beach for his wife Queen Nam Phuong, thus the name. He even built a villa on the beach for his family to stay in. But the beach is also called "Egg Stone" Beach for its tortoise shape which is said to be filled with jade and granite eggs. A garden of rock animals, unique rock eggs and garden houses built between plants and trees can also be found at Ghenh Rang. This was also the home of the late world-famous poet Han Mac Tu whose grave has become a tourist destination especially for the art lovers.
Bau Da Village is often visited for its bau da liquor, a well-known drink made from newly-harvested rice grains and special water which gives it a distinct transparent color. It is made by hand by distillation over a straw and then heating it using husks. The concoction is so one-of-a-kind that it is believed to cause "sensations of fire and ice" and send chills on the skin even with just a small drop. It is even said to taste better than the highly popular brandy Johnny Walker.
Cu Lao Xanh or Green Islet is covered with 75% of stunning green waters and 450 hectares of land abundant with forests and mountains. It is an ideal destination for those looking for tranquility yet a dash of fun because the population is small and scattered with mostly elders and young children living in the island, but there are several activities which visitors can enjoy such as fishing and barbeque party at the beach. A lighthouse built in 1890 stands, one of the biggest in Vietnam and has become a tourist magnet.
Without a doubt, Binh Dinh is worth visiting. With its great potential for sea economic development and eco-tourism, it's a guarantee that it will prosper even more in the future - near.