Cham Islands: Beach Paradise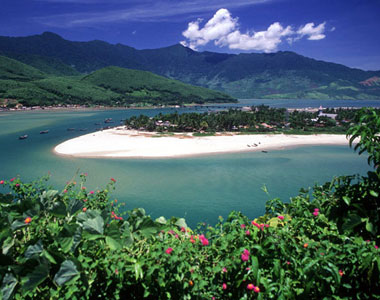 The Cham Islands are a group of islands located at Tan Hiep Commune, Hoi An City, Quang Nam District. Although it is situated at a publicly popular tourist area around the Da Nang – Hoi An – Cua Dai – My Son sanctuary, the place has remarkably preserved its original condition. Perhaps that is why it is also recognized as Vietnam's national scenic site.
Cham Islands is composed of the following islands: Hon Lao (Pearl); Hon Dai (long); Hon Mo (tomb); Hon Kho me; Hon Kho con (dry); Hon La (leaf), Hon Tai (ear), and Hon Ong (East wind). It is a small island with a population of only around 3,000 people. From Cua Dai (Hoi An), it takes about a 20-minute speedboat ride at VND 120.000 per person. A train ride will take about an hour to reach the island at VND 30.000 per person. But tourists can also take a day tour package from Da Nang costing about VND 450.000 per person.
Life starts early at Cham Islands, as early as dawn when people gather at the fish market for their livelihood. In the afternoon though, one can take it easy with a massage or relaxing by the beach. Since Cham is a cluster of islands, it is naturally blessed with beaches, and amazing ones at that.
Xep Beach is the nearest beach but for those who prefer an unspoiled one, Chong Beach is the place to go. Both beaches have impressively maintained their pristine condition, untouched by commercialism. Ong Beach is the oldest beach in Hoi An, 3,000 years old at Tien Sa Huynh. Being ancient, it is a significant field when it comes to studying the culture of Central Vietnam. Lang Beach in Cham Pa, Hoi An is also rich in history, in the discipline of archaeology.
Aside from its pristine beaches, Cham Islands has also successfully preserved certain traditional cultural institutions and beliefs of its central villages. The Dai Can Temple, Thanh Hoang Shrines, Tien Hien Temple and Than Nong Temple are evidences of a rich culture built as early as the 17th - 18th centuries.
Cham Islands is best explored by a bike, where one can discover the place firsthand while enjoying the fresh air. But diving and walking along the forest are also best ways to get to know the island. Since Cham is basically untouched by commercialism unlike most tourist spots today, there is no hotel or resort in the place. Visitors can stay in a homestay guest house which actually gives them a more meaningful experience. A homestay costs about VND 50.000 per person. Moreover, Cham Islands also offers delectable local delicacies such as its famus "vu nang," stone crab, and fresh seafood such as squid, shrimp and lobster.
Despite its absence of commercialism and an obvious lack of modern facilities and amenities, Cham Islands maintains to be a favorite tourist destination today, a clear indication that natural is the best way to go.