Cost of Rice Expected to Rise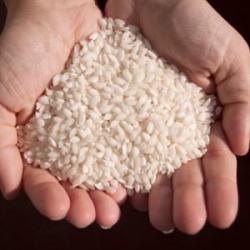 The cost of rice is expected to climb over the coming months, as an improving global economy raises demand, and drought cuts production in countries such as India.

Some economists say prices for rice, the staple food for much of the world's population, could be returning to levels that sparked inflation fears in much of Asia last year.

Charuk Singhapreecha is deputy dean of the faculty of economics at Thailand's Kasetsart University. He says prices - especially for Thai rice - are being pushed higher by new customers coming into the market after the economic slowdown of the past year.

"They expect that the world demand will increase and we expect that the price of rice will increase next year," Charuk said. "There are many new markets for the Thai rice and also we still have for our old customer - China, some Arab countries - they will increase the demand."

Prices on the global market could again near the record above $1,000 a ton set in the middle of 2008. This month, export prices for Southeast Asian rice have jumped from about $550 a ton or less to more than $650.

Vichai Sriprasert, honorary president of the Thai Rice Exporters Association, says further weakness in the U.S. dollar and concerns over drought in India add to pressure on prices.

"The dollar weakness contributes to this; the rumors about weather conditions in India, in China, Australia, elsewhere, are also contributing," Vichai said. "The dollar will continue to be weaker and weaker - if this turns out to be true other commodities, rice, oil, gold will all go up in price."

Market experts say next year India is likely to try to import three million tons of rice - tapping the world market for the first time in 21 years - because of a drought.

Vichai also warns that increasing demand for bio-fuels from grain could reduce food crops, forcing the price of food grains higher.

"This is very serious. That's why the rice [price] will not go back to the level that we used to see," Vichai said. "It will have to be elevated at a higher level, but I don't know where."

The Philippines this week said it is cutting rice imports because of high prices, even though the country lost more than a million tons of grain to typhoons this year.

Officials from Vietnam, a leading export competitor with Thailand, predict prices will reach about $800 a ton by the middle of 2010. This week the Philippines' National Food Authority offered almost $665 a ton for 600,000 tons of Vietnamese rice.

Economists say higher food prices will only increase the problems faced by the region's poor, who are highly dependent on rice as a staple food.