Cu lao Gieng: Beauty and Tales Unfold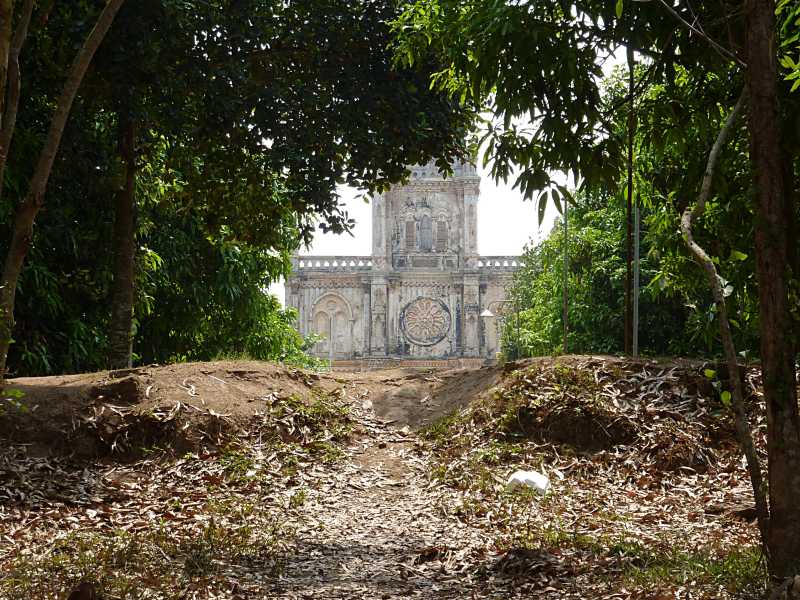 In the Mekong Delta sits an island with divine beauty. It holds so much historical memories dating hundreds of years back. Many of these old tales continue to linger within the walls of numerous churches, monasteries and pagodas that endlessly grace the island.
Cu lao Gieng (Gieng Island) is a triangular island located in the middle of the Tien River on the border of Dong Thap Province. It was called Dinh Chau in one of the country's most famous chorography records, Gia Dinh thanh thong chi (A Chorography of Gia Dinh City –now the southern region of Vietnam). According to the record's author, Trinh Hoai Duc, it was called such when a famous historian of the Nguyen Dynasty likened it to Doanh Chau, (one of three islands often mentioned in East Asian legends) because of its clean atmosphere, rich soil and abundant produce.
Churches and Monasteries
Anyone visiting Cu lao Gieng will never fail to notice its quiet, profound ambience. Walking around and admiring the many 19th century pagodas and churches exudes a feeling of being in a sacred territory. A complex of Roman Catholic structures on the island is particularly surprising. The most striking of which is Cu lao Gieng Church. Records say that it was built by a French priest named Gazignol between 1879 and 1889 using construction materials shipped from France. However, other records insist that construction of the church had already begun 1850. If such is proven true, Cu lao Gieng Church would be the oldest church in southern region, instead of the famous Saigon Notre-Dame Basilica in Ho Chi Minh City. Over a century went by but the cathedral still stands strong and maintaining its solemn appeal.
Next to it is a monastery of the Franciscans, an order of Roman Catholic Church. The building was utilized as the friary for the religious group's members in Mekong Delta provinces and Cambodia between 1872 and 1946. During the war in 1945, it was destroyed and abandoned. At present, it stands as a quiet, unoccupied structure. Once in a while, it is used as a venue for meetings of local Franciscans.
In the island visitors will also find the 138-year-old monastery of Providence Sisters, which was once a place where sisters and priests spent endless days and nights caring for the elderly, children and patients with incurable diseases. Like the latter, long-standing neglect reduced it to an old, forgotten relic. Other famous Catholic structures on the island are the century-old Rach Sau Church and the St. Francis Church.
Many say that the reason why many Catholic Churches were built on the island is because it is where a large number of Catholics, including French priests, who took refuge here as they tried to escape from the Nguyen Dynasty's suppression of the religion during the 18th century. Cu lao Gieng is now considered one of the largest and oldest parishes in the Mekong Delta.
Pagodas and Tombs
Beyond the churches, visitors will come across several beautiful pagodas around the island. The Phuoc Minh Pagoda is among the most admired. It has a nine-level tower and a three-door gate and are built with the same traditional styles found in northern pagodas.
The "tomb" of Ba quan Thuong Dang (three high-ranking officials) is one of the most visited sites on the island. It is a complex of three graves that have the shapes of squid, fish and tortoise. According to historical records, Emperor Nguyen Anh (1762-1820) ordered the graves to be built as a memorial for famous general Nguyen Van Thu and his two younger brothers, who were all killed in a battle in 1801. Their bodies, however, were lost in the battle and were not actually buried in the tombs. Instead, the king's people brought wax dummies to the island and buried them there.
Today, Cu Lao Gieng is mainly a retreat for retired nuns. Visitors who come by will be surprised to witness impressive relics in the middle of nowhere. And for one to hear of the beautiful stories behind these structures and the island itself, will surely agree that this is one place to discover.