Goi Cuon: Salad in a Roll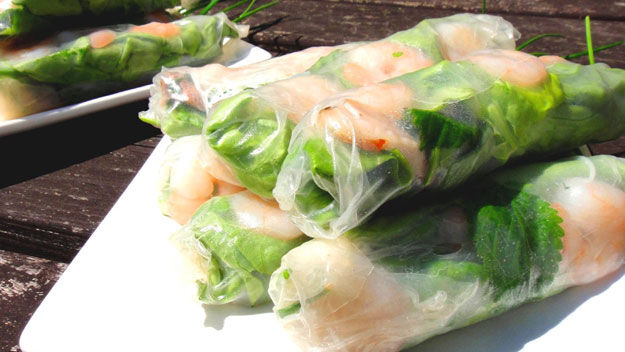 A popular appetizer among Westerners in Vietnamese restaurants, Goi Cuon translates to salad roll. Depending on where it is served, it is also called nem cuon, nem roll, fresh roll, and summer roll. Its name would make one, who has not tried this dish, confuse it with the fried "spring rolls" that is often found in restaurants. These are exactly different things. These Vietnamese spring rolls are fresh and use a variety of protein and fresh ingredients.
A close relative of the Goi Cuon is the "chả giò" in southern Vietnam and "nem rán" in the North. These are savory fried Vietnamese pork rolls. The main ingredients in a Goi Cuon dish consist of pork, shrimp, salad, basil, rice vermicelli and banh trang (rice paper) - one of the most important and indispensable ingredients that decides the quality of the dish. The fillings, however, can vary and every restaurant has its own recipe and vegetarian versions can be found. You may prepare the rice paper wrappers yourself, which is a little challenging to do.
However you may purchase ready wrappers from supermarkets. The rice paper wrappers take a little practice to prevent from tearing, so set aside a few extra if you have never worked with them before. As these rolls should be served at room temperature, make sure you use the freshest ingredients. To prepare the stuffing, pork is boiled and sliced while the shrimp is cleaned and boiled before peeling and splitting into two pieces. Then spread each rice paper that is made wet by water on a plate and then put a piece of shrimp, pork, salad, basil, a chopstick portion of rice vermicelli and a stem of shallot.
Once all desired stuffing are in, roll the rice paper wrap tightly. Goi Cuon is best eaten with a sauce made from a combination of soybean sauce, coconut milk, a squeeze of tamarind, chopped garlic, hot pepper, onions, ground peanuts, fried sesame seeds and cooking oil. Some prefer to have it with a peanut sauce or nuoc cham (red pepper fish dipping sauce). With the ingredients used and manner it is prepared, the Goi cuon is truly a healthy variation to other fried Asian rolls. It is listed as one of the 12 Vietnamese dishes in the food record category recognized by the Asian Record Association. The Goi cuon is also at number 30 on the World's 50 most delicious foods list compiled by CNN Go in 2011.