Houston Museum Exhibit Highlights Centuries of Art in Vietnam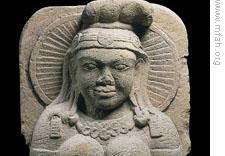 One of the largest Vietnamese communities in the United States resides in Houston and along the Gulf coast in Texas, Louisiana and Alabama. They now have a chance to reconnect with the rich history of their homeland through a new art exhibit at the Museum of Fine Arts in Houston called "Arts of Vietnam, From River Plain to Open Sea." The exhibit showcases some spectacular works of ancient art with influences from all over Asia.

Jointly sponsored by the Museum of Fine Arts in Houston and the New York-based Asia Society, the Vietnamese art exhibit contains over 100 ancient works never seen before outside of Vietnam. On loan from Vietnam's leading museums, the artifacts, sculptures and carvings reveal the richness of both the indigenous cultures of the Southeast Asian nation and the many influences from nearby countries like India and China.

Nancy Tingley, an independent art history scholar from California, who serves as curator for this exhibit, worked for 20 years to put it together. "The problem was that we did not have diplomatic relations with Vietnam until 1995 and we began working on the exhibition in 1988. It was not moving forward because they did not feel comfortable sending their art out of the country. At that point, I think in 1994, we, more or less, shelved the project until the early 2000's when we came back to it and started working on it again," she said.

Visitors to the museum will be able to see massive stone sculptures depicting Hindu gods as well as Buddha, funerary jars, ancient jewelry and delicately decorated ceramics found in a shipwreck off the coast of central Vietnam. Nancy Tingley says the goal is to show the variety and quality of art found in Vietnam. "My sense in Vietnam is that if you stuck a shovel in the ground, you would find something. It is such an incredibly rich culture and one of the things we wanted to show in the exhibition was the sense of breadth, the early bronze culture as well as the coming in of Hinduism and Buddhaism from India, the constant contact with China as a trading partner," she said.

Thousands of refugees from Vietnam took up residence in this part of Texas and neighboring states after the Vietnam war ended in the mid-1970's. Tingley says she hopes they and their families will come to see these art works that form part of their heritage. "That is one reason we had hoped from the very beginning that it would be here in Houston because we know there is a very big Vietnamese community and we wanted to honor them with the opportunity to see this material," she said.

One of the early visitors to the exhibit was John Nguyen, who works with a Houston Vietnamese community organization. He says this exhibit is especially important for the children of immigrants who may have very little knowledge of Vietnam and its cultural history. "They never have been in Vietnam or even if they have been in Vietnam, they never knew about this culture and this very beautiful history, where they come from, and this is very good," he said.

Thirty-five-year-old Cristina Tran was born in Vietnam, but grew up here. Even though she already knew some of Vietnam's history, she says seeing these art works has motivated her to learn more. "Honestly, I have never thought that Vietnam had such a long, extended history. I am guessing a lot of first and second generation Vietnamese children here are not aware that we had kings, because they are so consumed with trying to adapt to life over here that they forget," she said.

The exhibit "Arts of Vietnam: From River Plain to Open Sea" will remain in Houston until January third of next year and then go on display in New York from February second to May second.