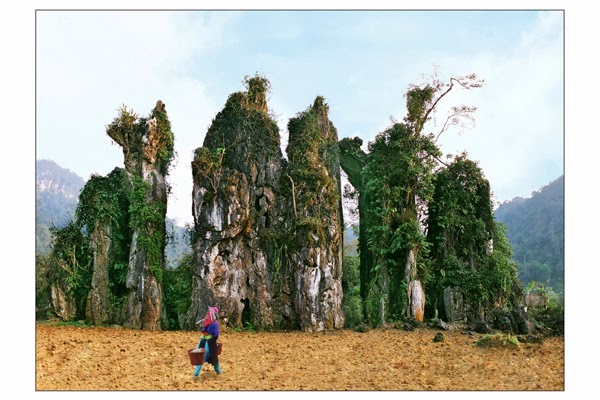 Prime Minister Approves Dong Van Karst Plateau Tourism Development Plan
The Prime Minister recently ratified the Dong Van Karst Plateau Tourism Development Plan. It contains a number of specific targets until 2025 with a vision towards 2030.
One of the main points stressed by the master plan is to reach an increasing revenue for each coming year: of 1.3 trillion VND (57.3 million USD) by 2020, 2.8 trillion VND (123.4 million USD) by 2025 and 5 trillion VND (220 million USD) by 2030.
Certain areas of the region will be transformed into primary tourism sites like the Red River Delta provinces; mid-land and mountainous localities; and some cities and provinces in the Central and Southern regions like Da Nang, Can Tho and Ho Chi Minh City.
International tourism will be a major focus because nations like Western Europe, Japan, Republic of Korea and ASEAN are high rollers when travelling abroad.
Local tourism such as geological tourism, community-based tourism, nature tourism, adventure travel and discovery tourism will be greatly developed because they have been major contributors to the sector in the recent years.
The master plan will also construct five tourism zones: a cultural park in Xeo Sa Lung Village, Pai Lung Commune, Meo Vac District; Ma Pi Leng adventure travel zone at Tu San abyss; Thai An reservoir tourism site in Thain An Commune, Quan Ba District; Quan Ba Resort and healthcare site in Quyet Tien communes, Quan Ba District; and Nam Dam resort site in Quan Ba Communte, Quan Ba District.
High-end accommodations and entertainment will also be given focus as more and more people cater to them during their trips.
Tourist arrival in Dong Van Karst Plateau is expected to rise in the years to come. By 2020, 800,000 visitors are expected, 130,000 of which are international tourists. By 2025, the number is seen to increase to 950,000, with foreigners numbering to 250,000. By 2030, the target is 1.1 million tourists to visit Dong Van Karst Plateau, 380,000 of which are international visitors.
Dong Van Karst Plateau is a globally significant national tourism site because of its vast number of pre-historic relics. Situated at the Northern mountainous area of Ha Giang province, it has a total land area of 2,356 kilometre square and a population of around 250,000. 80% of the area is limestone which contains remains of creatures dating back to 400 – 600 million years ago. It is also home to 17 ethnic groups each with a unique culture that dates back to centuries ago. It became a member of the Global Network of National Geoparks in 2010 as administered by UNESCO, and again from 2015 – 2018. It wasthe first geological park in Vietnam and the second in Southeast Asia.
Recently, 14 archaeological sites were dug up in Dong Van, Meo Vac and Yen Minh districts which uncovered hundreds of relics belonging to the pre-historic and proto-historic times. With such national and historical value, it is imperative that Dong Van Karst Plateau be both preserved and developed into the best tourism site it could be for the whole world to see.
007xd