Son Doong Cave Cable Car Raises Controversy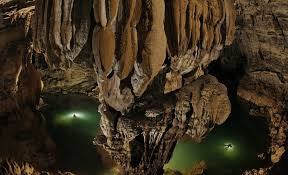 A plan to construct a cable car system in Son Doong Cave is sparking a controversy among different sectors of the society. The proposed 10.6-kilometer long system which is estimated to cost U.S.$142 - 211.5 million is raising both positive and negative opinions from conservation experts, tourism figures and local state officials.
Sun Group is the local developer who will implement the project. The cable car system is designed to have four sections starting from the entrance of Tien Son Grotto and will take a total of around 80 minutes of travel. If pushed through, it will be the longest cable car in the world.
But according to environmentalists, the construction of such a structure will damage the fragile landscape and environment of the cave. The proponents of the cable car project are said to be thinking only of the economic benefit and disregarded the impact on nature and tourism. To quote the Director of Exotic Vietnam Co. Truong Hoang Phuong, "Building the system to bring a large number of visitors to the area will have to be accompanied by infrastructure to support more people, such as the construction of new roads, hotels and restaurants, and preparing human resources to run these kinds of services. With all of that development, people will intervene directly in the environment which characterizes Son Doong and has helped it become famous.
As a result, Son Doong will never be the old Son Doong again." Another sector opposed to the idea of a cable car in the cave is the tour operators of Son Doong. For them, most tourists who visit the cave are not intending to see the cave alone, but to experience nature as a whole by braving the day and a half walk as part of the adventure. The trip takes a three-person team composed of porters, cooks, guides and experts. The five-day, four-night program is quite expensive at $3,000, but it has a long waiting list because people actually want to conquer the long and challenging journey in order to have a sense of triumph after. So to put up a cable car would deny them of this unique self-accomplishment.
The Son Doong Cave tour has also enticed tourists to stay at Phong Nha-Ke Bang longer and visit other significant sites as En (Swallow) Cave, Toi (Dark) Cave, Phong Nha and the nearby coastal area.
While Deputy Director of the Quang Binh Department of Culture, Sports and Tourism Nguyen Van Ky believes that a World Heritage site like Phong Nha-Ke Bang should bring economic benefit to its society, it should go hand in hand with the protection of the environment and preservation of a very important heritage as a whole. Otherwise, the cable car system, or any project for that matter, should not be installed. Phong Nha-Ke Bang National Park was recognized by UNESCO in 2003 because of its karst formation which dates back to the Palaeozoic Age or about 400 million years ago, the oldest of its kind in Asia. Moreover, the park has 65 kilometers of land area consisting of stunning caves and amazing underground rivers.
For a compromise, Director of Asian Trails Travel Company Bui Viet Thuy Tien suggested that a cable car system can be built but only to a specific part of the area for visitors who prefer the service. But for the environmentally-significant section of the cave which most tourists are intending to explore for themselves even at a higher price, it should be preserved at its natural state. This way she said, all the varying needs of the guests will be satisfied while increasing its income and tourism and most importantly, protecting the natural environment and heritage that is Son Doong Cave. The provincial government will consult with UNESCO; the Ministry of Culture, Sports and Tourism; and other related experts before making a final decision of whether such a cable car system should be installed. All details of the project must be carefully and completely lined up to see its impact on the environment of the cave which is the most critical part of the decision later on.
Son Doong Cave is a popular tourist destination because it is the world's biggest cave at present. It is also identified by UNESCO as a World Heritage Site. It is situated at Phong Nha-Ke Bang National Park.