Take a Boat Ride Through the Beauty of Tra Su Cajuput Forest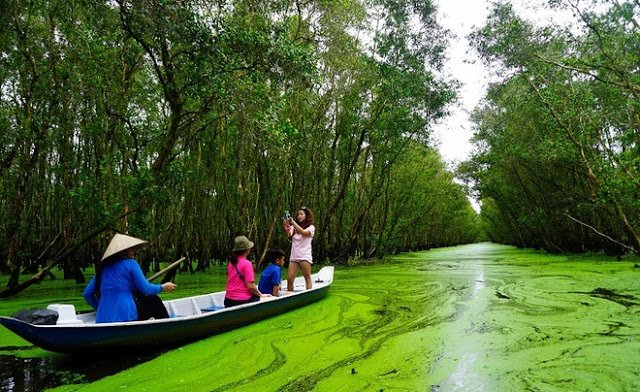 One rising tourist destination in Vietnam is Tra Su Cajuput Forest in An Giang Province known for its uniquely amazing landscape.
From July to December, water rises and covers the whole area of the forest, creating a one-of-a-kind view wherein tourists can take a boat ride to explore the beauty of the place.
Between December and January, the weather is cool with the sun shining warmly and the entire area transforms into an autumn-like scene wherein the trees gracefully sway to the wind and the leaves gently fall to the ground. The water appears like a giant piece of art with duckweeds enveloping the surface. Birds migrate to the forest during this time to build their nests, their tiny tweets sounding like a sweet melody serenading the national reserve.
A boat ride through Tra Su Cajuput Forest consists of a composite motor boat which parks at a pier in the forest and travels along the area, treating tourists to the lush greenery of the forest, including charming lotus and water lilies on the water. The passengers are then transferred to a small wooden rowing boat which explores the deeper part of the natural reserve. For about 30 minutes, guests will be in awe of different kinds of birds like storks scattered all around. They will also be taken to a bird-watching tower with a telescope to see the other birds and admire the whole beauty of the place.
Tra Su Cajuput Forest is 1,500 hectares big with 140 species of flora and over 120 species of water birds, bats, reptiles, animals and fish, many of which are endangered and some listed in the Red Book. Located at Van Giao Commune, Tinh Bien District, many tours are now available to enable tourists to discover this paradise for themselves. Weekdays are the best time to visit wherein there are less people compared to weekends. Cam Mountain and Tuc Dup Hill are also other worthy destinations in the region.