The world's biggest cave in Vietnam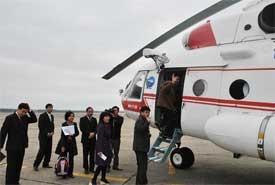 Son Doong was found next to the area of En Cave. In fact, the cave was first known by a local named Khanh 18 years ago and he called it Son Doong. However, he only located the mouth of the cave and did not explore the natural wonder. Walking about 8 hours from the Ho Chi Minh trail to the west, passing the forest and Doong village, you will come to Son Doong cave. The area is extremely difficult to access.

According to the information of the exploration team, the cave is 5 km in length, 200 meters high and 150 meters wide. It is believed to be the biggest in the world replacing the Deer Cave in Malaysia (2km length, 100m height and 900m width). Son Doong is expected to be longer but the explorers did not have the proper conditions to learn more. In 2011 the British explorers will return to continue their adventure.

Son Doong is very fantastic with a large number of beautiful stalactites and stalagmites that are not seen anywhere else. The explores reveal that the water source is very strong. You can hear the river from the cave entrance so it is very noisy and intimidating.

Besides, the teams discovered more 20 caves with different beauty. In Minh Hoa, Ca Xai cave has a very big and deep lake inside. Explores measured the depth of this lake, but they had only 200m of rope and the end didn't reach the lake bed. The total length of these caves discovered is 34km.

With the "breathtaking beauty", Son Doong makes contribution to vary the beauty of the Phong Nha-Ke Bang World Natural Hesitage site. The cave is suggested to be developed as a tourism site in the future.