Royal International Hotel & Villas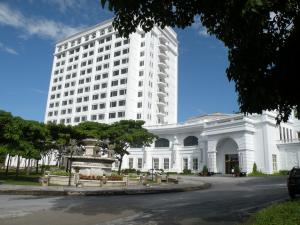 The 4-star Royal International Hotel & Villas offers 269 luxuriously arranged rooms which have a panoramic view on the Ha Long Bay – the World's Natural Heritage. The spacious rooms are elegantly furnished and come with all amenities. Along a wide range of entertainment and relaxation offers as well as culinary delights, the hotel has a huge solarium. The outdoor pool, large sunbathing terrace and whirlpool are located within the lush and well-kept hotel garden. The Royal International Gaming Club offers a number of games including Baccarat, American Roulette, Black Jack, Sic Bo, Pai Gow and Poker. The Royal Park is famous for its museums, water puppet show and Vietnamese cultural show. The hotel also boasts a number of different restaurants:the Vietnamese Restaurant offers traditional food and music, the Casino Restaurant has an international buffet and BBQ, and for exclusive dining, Shark's Fin Restaurant suggests a wide range of extraordinary dishes.

Location Ideally located, just 2 minutes walking distance from Bai Chay Beach, Ha Long City, and 3 minutes to tourist boat station.

Accommodation The 4-star International Royal Hotel & Villas offers 134 luxuriously appointed rooms with panoramic view of Ha Long bay - The World's Natural Heritage. All spacious rooms are surrounded by well-landscaped gardens with exquisitely and elegantly design amenities for the comfort and convenience for both frequent business travelers and tourists alike.

* Superior Room: Fully-equipped with 4-star amenities and facilities, en suite bathtub and twin bed only, Superior rooms will be the best choice for a holiday with your dearest. Come and stay to experience how good life is. Enjoy your day and night in Ha Long Bay's beautiful nature. * Deluxe Room: The 36-square-meter spacious deluxe rooms with a beautiful view over the bay promise a very comfortable and joyful stay in Royal Hotel & Villas Ha Long Bay. Beside the 4-star-standard facilities and amenities, en suite bathtub with separated shower, the rooms are equipped with anti-insect screens on doors and windows, which guarantee opportunities to sink in the fresh air from sea for your memorial stay. * Suite Room: With 72 square meters, divided into one living room and one bed room, the rooms welcome you as a VIP with everything you need for a truly comfortable and memorial holiday in Halong. And on the outdoor terrace roof with table and chairs beneath a big umbrella, you can enjoy the view of Ha Long Bay night and day.

Facilities and Services

Vietnamese Restaurant It is nearby located at Bai Chay beach. Whether it is for a wedding party, cocktail reception or dinner – Vietnamese Restaurant is the ultimate choice for your event! All you need is that little professional touch to make it an experience. Vietnamese traditional music is also available here.

Casino Restaurant It has a seating capacity of 70 persons, offering 24 hours international buffet & Barbecue made by the experienced chef.

Shark's Fin Restaurant It is located nearby the tourist wharf station of Ha Long City. This is the most deluxe restaurant in Ha Long, serving a wide range of special dishes such as Shark's Fin Soup, Braised Abalone, Stewed Sea Cucumber, etc. The food is prepared daily by the experienced Chinese Chef.

Fitness Center Feel the burn at the Fitness Center while treading on the latest Life-Fitness equipment, or work up a sweat in the Aerobic room with our full selection of fitness classes. Meet with one of our nationally certified personal trainers and nutritionists to help with everything from personal training to body composition analysis. You'll leave feeling alive and energized.

Meeting and Conference Royal International Hotel offers meeting and conference rooms with the latest sound and lighting system, other up to date equipment and a capacity of 150 pax.

Outdoor Swimming Pool A complimentary facility for hotel guests, the 10,000 square-foot solarium with an outdoor pool and whirlpool is the perfect way to unwind. In the summer season, you can sunbathe or just relax in the summer heat on the 6,000 square-foot sun terrace, located just beyond the pool area. This is also an ideal place for a buffet & barbecue party.

Other services: Steam baths, Jacuzzi, Gymnasium, Aerobics Room, Sauna and Swimming Pool.