Royal Lotus Hotel (Managed by H&K Hospitality Management)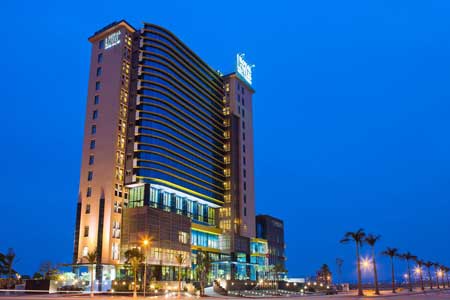 This hotel offers a touch of Vietnamese hospitality with international standard and impeccable services. Boasting 147 elegant rooms with luxurious amenities and modern facilities, this Halong business hotel is the first choice for your accommodation in Halong, both business and leisure travelers alike.

Location Located 5 minutes away from Halong pier and few minutes with the view of clear bay and the city in perfect harmony with nature.

Accommodation Elegant and comfortable rooms combine French contemporary décor with Vietnamese touch create unforgettable sleeping in style. Every guest's room offers breathtaking views of Halong Bay or charming city.

Suites Beautifully furnished with modern amenities and feature a king-sized bed, comfortable sofa and stylish black marble bathroom. The rooms' large windows and full-length glass doors provide breathtaking views of Halong Bay and charming city.

Premium & Deluxe Rooms Tastefully furnished and provide stunning views of the bay and city. These rooms feature comfortable beds, bedside tables, drop-down lights, plasma television, mini bar, work desk and large windows that provide plenty of natural light. A stunning bathroom is attached to all rooms at Royal Lotus Hotel Halong.

Restaurants & Bars

Wine Dine Lotus Restaurant Dining at the Royal Lotus Hotel Halong affords guests a delectable choice of local as well as international cuisines. Enjoy Vietnamese tasteful cuisine or sophisticated Western fare, excellent selection of French, Italian, Spanish wines and stylish contemporary décor at this charming restaurant.

"Hana Hana" Japanese Restaurant Feature a choice of dining tables from Sushi corner to Teppanyaki counter, long table bar to a private VIP rooms for up to 20 people. The open show kitchen provides the drama of watching chefs prepare the tastes and flavors of Japan.

Bar Chic and modern roof top bar on 16th floor offers light international snack menu and a variety of special cocktails as you take in panoramic views of spectacular Halong Bay or charming Halong city. Stylish Piano lobby lounge with a unique atmosphere is a perfect venue for meeting friends over a perfect cocktail.

Meetings & Events Offer a number of meeting rooms that can hold from 30 to 700 people for all kinds of events: business meetings, cocktails, weddings, fashion shows and more.

Wedding & Honeymoon Once in a life time you can have your wedding party in the great location with the great service of hospitality as this business hotel in Halong provides the wedding service party for you to have many unforgettable moments.

Fitness Center Fitness Center with the most modern equipments available is free to our inhouse guests. The Fitness Center is equipped with running machines, free weights and a range of body toning machines.

Swimming Pool Relax at In-door Swimming Pool to enjoy the view of Halong Bay or visit Bai Bua Thai Spa for beauty and health treatments.