Hanoi: places of interest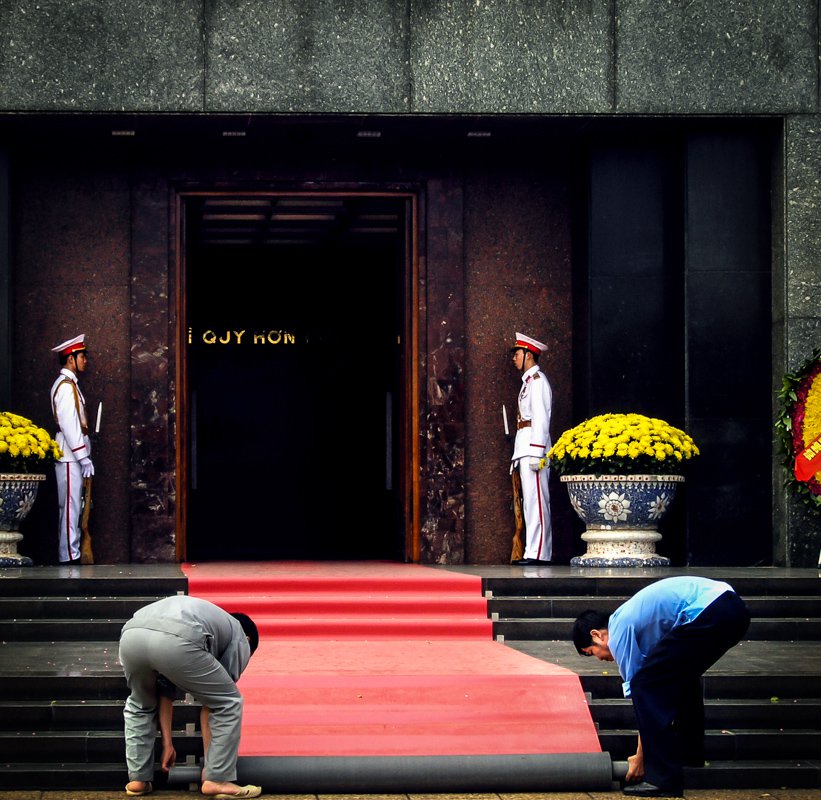 As the capital of Vietnam for almost a thousand years, Ha Noi is one of the cultural center of Viet Nam. Despite the battles of the many wars and several occupations, Ha Noi retains much of its historic atmosphere.

• The Old Quarter (Phố Cổ Hà Nội), near Hoan Kiem Lake, is a thriving, chaotic tangle of streets, originating back to the 13th century. Each street (Hang) was originally home to merchants specializing in a particular trade like jewellery, silver, baskets, and silks. The names of the street correspond to these industries. The Old Quarter is most enjoyable when you put away your map and simply wander the maze of lanes, soaking up the cultural essence of Hanoi.

• Lakes in Ha Noi: Ha Noi has many scenic lakes and is sometimes called "City of Lakes," the most famous of which are Hoan Kiem Lake and West Lake (Ho Tay). At Hoan Kiem Lake you can join in on a martial arts session, do some Tai Chi exercises, or simply stroll. West Lake, the largest lake in Hanoi, is the city's exclusive area, with many trendy restaurants and clubs. It is also home to Vietnam's oldest pagoda, Tran Quoc, which was built in the 6th century on an island in the middle of the lake.

• French colonial architecture: Hanoi was the capital of French Indochina from 1887 to 1954, and the city retains some beautiful colonial buildings from that period. Good examples include the Grand Opera House, the State Bank of Vietnam (formerly the Bank of Indochina), the Presidential Palace (formerly the palace of the governor-general of French Indochina), the Cathédrale St-Joseph, and historic hotel Sofitel Metropole.

• Ho Chi Minh Mausoleum: The founder of the Communist Party of Viet Nam is embalmed. For the visit: no talking, short pants, or other signs of disrespect are allowed while viewing. Taking photos of the large concrete-and-granite structure are permitted only from outside, in the grand Ba Dinh Square. Right around the corner is the Ho Chi Minh Museum, which displays personal items and photos from Ho Chi Minh's life. The building, completed in 1990, is intended to evoke a white lotus.

• Ho Chi Minh's residence: Rather than occupy the spectacular Presidential Palace, former home of the French colonial governor, Ho instead chose to live nearby in a traditional Vietnamese house on stilts, overlooking a small pond. He stayed here from 1958 to his death in 1969.

• One-Pillar Pagoda (Chùa Một Cột): First built in 1049, destroyed and rebuilt, the One-Pillar Pagoda, next to the impressive presidential palace, is a treasure and a landmark of Ha Noi. It appears somewhat bizarre, but is a small and fine gem.

• The Temple of Literature (Văn Miếu): The temple was founded 1070 by King Ly Thanh Tong, is dedicated to Khong Tu (Confucius) and all scholars and persons of high literary accomplishment. In 1076 Quốc Tử Giám (or National University) was founded. In fact, this is the first elite university in Viet Nam and was the only place to be educated or to pass exams to enter the career of a mandarin class.

• Hỏa Lò Prison ("The Hanoi Hilton"): Built by the French at the turn of the 20th century, this is where the French imprisoned and executed many Vietnamese during the war for independence. Later, the prison was used to hold U.S. prisoners of war, including U.S Senator John McCain. The prison is now a museum highlighting the struggle of the Vietnamese people against imperialism.

• Army Museum: This museum celebrates the role of the Vietnamese Army in the country's battles for independence. In addition to historic photos, there are numerous bombs, aircraft, guns and tanks on display.

• Vietnam National Museum of Fine Arts: For visitors with an interest in the arts, this museum, housed in a beautiful colonial building, is a must-see. There's a nice mix of Vietnamese traditional crafts such as lacquer-ware and silk painting, as well as some impressive historic artefacts.

• Vietnam Museum of Ethnology: Vietnam is home to 53 ethnic minorities, and this museum sheds light on their history and culture. In back of the museum are re-constructions of traditional village homes.

Things to See Near Hanoi

Ha Noi has several interesting sights in its surrounding:

• The Perfume Pagoda (see article): is a Buddhist pilgrimage site about 40 miles southwest of Ha Noi. A full-day excursion involves a boat trip, hiking up a mountain, and visiting various temples and grottoes.

• Bat Trang: is a village world-famous for its pottery, five miles southeast of Hanoi.

• Cuc Phuong National Park: is the largest national park in Vietnam, with a great diversity of flora and fauna. It is a day-trip from Ha Noi.

• Ha Long Bay: the breathtaking Ha Long Bay is definitely worth a visit. The easiest way to visit Ha Long is to take a tour from Ha Noi, which includes pick-up from Ha Noi, cruising Ha Long and stay overnight on the boat, with full-board service and transfer back.

• Sapa: The northern village of Sapa, home to ethnic minorities, gorgeous mountains and trekking paths connecting many tiny mountain villages. It is a popular two or three day trip. The trekking paths have no signs, so is better to hire a guide.