West Lake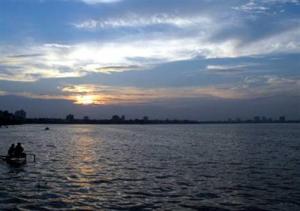 The West Lake, which is more precisely on the northwest part of the city, is the largest among lakes in Ha Noi. Former time, the West Lake was an integral part of the Red river. As the Red River changed course, the lake has formed its own shape.
The West Lake is the source of many legends associated with. The most renowned legend about the origination of the West Lake is the Legend of the Golden Water Buffalo. As the story goes, there once was a giant shaman, known in Viet Nam for talent in his medicine practice. He, of course often treated the king and his royal family. His became thus famous that the king of China invited him for a medical treatment. After recovering from the illness, the king intended to reward him with great wealth. The giant however refused all the gold offerings, only wanted to have all the black copper in the king's vault. The giant returned to Viet Nam with vast amounts of black copper, with which he started to cast a bell. As the giant rang the bell, it can be heard in all neighbouring countries, also in China.
A Golden Water Buffalo in the Chinese king's vault heard the sound of the bell and turned alive. The Buffalo thought that his mother was calling him and made his way southward to Viet Nam. Arrived in Ha Noi, the Golden Buffalo trampled the land in the area near Red river. Piece by piece, this area absorbed filled water and finally the West Lake emerged. In ancient time the West Lake has always been a royal vacation area, where the kings of the Ly and Tran dynasties built cottages on the lake. In the north end of the lake there are several villages famous for their flowers and fruits plantations. Many of the summer vacation residences of the kings today become shrines and temples. One popular temple is Phu Tay Ho, which attracts people from Ha Noi to to come and pay respect to the deities, The area of Phu Tay Ho is also famous for culinary specialties like Bun Oc (escargot vermicelli soup) and Banh Tom (shrimp cakes) offered in food stalls along the way. The West Lake is adjacent to the Truc Bach Lake, which has now a quite bizarre monument. On October 26, 1967, during the Vietnam War, John McCain, then a US Navy pilot, was shot down parachuted into Trúc Bạch Lake. He was dragged out of water and mauled by a mob. A monument celebrating the downing was erected at the western shore (Thanh Nien road). McCain has visited this place on his first journey back to Vietnam in 1985.