Ariva Eden Hotel Hanoi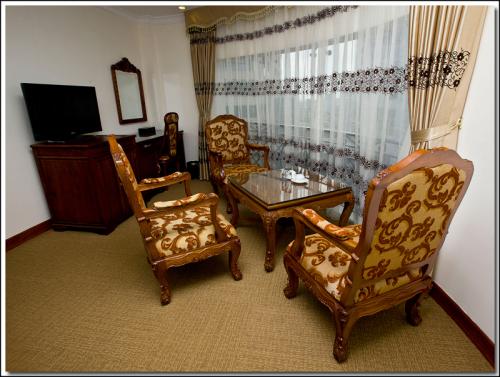 Right in the centre of Hanoi, delighted by scenes of the city, held in an exquisite combination of classic European and Asian architecture, bearing fine art in each interior detail, built from strictly selected materials, the Ariva Eden Hotel Hanoi offers various services that create a luxury accommodation.

Our goal of perfection is reached through profession and skill. Our staff is waiting to show you the experience of care. Ariva Eden Hanoi Hotel guarantees great pleasure and valuable memories.

Location Distance from Noi Bai International Airport: 40km Approximate cab fare: USD 20 Approximate travel time by car: 40min-45min Distance from Hanoi Railway Station: 3 km

Accommodation

* Standard Room: Cozy and comfortable, the standard room brings you peaceful relaxation among the hustle and bustle of Hanoi.

*Superior Room: The spreading trees at the window add the beauty of tranquility to the Superior room.

* Deluxe Room: Luxurious and refined in each interior detail, combined with a lovely enlarged window looking towards the city, the Deluxe room will be a great choice for couples on holidays as well as for businessmen.

* Executive Room: Catching the golden sunlight, the Executive room will surprise you by its brilliant beauty. The large crystal glass window opens a picturesque panorama of the city and will bring you joy through most wonderful relaxed moments.

* The Eden Apartment: Ariva Eden Hanoi Hotel proudly presents the greatest value for your stay with the Eden Apartment. Located on the ninth floor with more than 60 square meters space, the Eden Apartment is a masterpiece of architecture with a cozy bedroom, a separated luxury living room and a modern kitchen. The lovely enlarged balcony will bring you unique beauty at the sunrise, sunset or by thousand multicolor lights in the city at night.

Facilities and Services

Ariva Eden Restaurant The Restaurant is a luxurious composition of classic European architecture. Romantic melodies surrounding you while attentive staff offers you delicious cuisine made by professional chefs. Dinning at Eden Restaurant is a very special and memorable event.

Daily buffet breakfast: 6.30 AM - 10.00 AM Daily lunch (a la carte menu): 11.30 AM - 2.30 PM Daily dinner (a la carte menu): 6.30 PM - 10.30 PM (last order at 9:00PM)

Ariva Eden Bar The perfect place for you to enjoy a drink or snack.

Ariva relaxing pool Located on the top floor, surrounded by huge crystal glasses, the relaxing pool brings to you the most unique experience of relaxation in the cool blue water while enjoying the panorama of the city.

Ariva Spa Spacious and peaceful, well furnished with elegant interior, the Eden Spa will bring you the ultimate relaxation and re-energize you with a variety of treatments by experienced therapists.

Meeting and events Ariva Eden Hanoi Hotel is a great choice for your next event. With our fine facilities, modern equipment, and warm and friendly staff our function room can welcome up to 45 guests. All facilities offer the latest in technology. You'll find everything you need for your cocktail parties and special events.