Hanoi Daewoo Hotel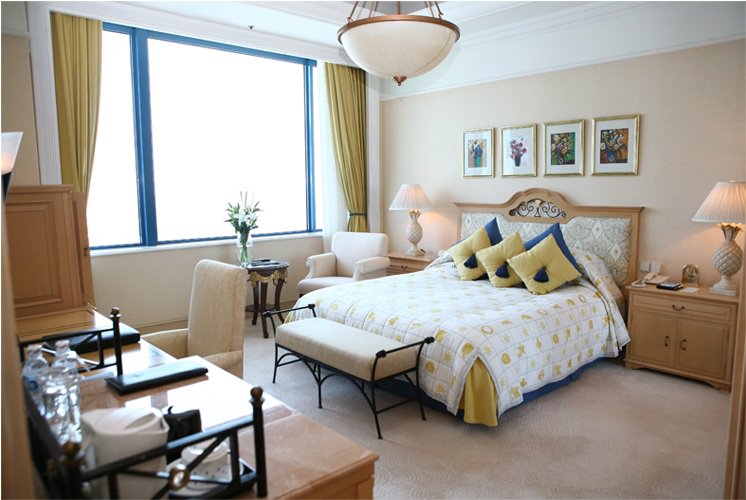 Hanoi Daewoo Hotel is a perfect embodiment of all qualities synonymous with the five star hotels. The hotel is also known for its gallery of Vietnamese fine arts. The warmth and refined Asian setting makes you feel at home and at the same time, offers you lifestyle experience. Since its opening in 1996, Hanoi Daewoo Hotel has created its own unique history. From Kings and Queens to various Heads of State, Corporate Conglomerates and Entertainment Celebrities from across the world, the Hanoi Daewoo Hotel has played the perfect host. Delighting them with an unparalleled level of service excellence is indeed a testimony to Hanoi Daewoo Hotel's fame! Location Nestled in seven acres of lush greens in the exclusive diplomatic enclave of the city, overlooking 3 magnificent lakes and a mere 30 minutes drive from the airport, Hanoi Daewoo Hotel offers guests a retreat from the hustle and bustle of the city centre, yet just minutes to downtown. Accommodation Hanoi Daewoo Hotel offers 411 luxurious appointed rooms and suites. Breathtaking views over Hanoi and Thu Le Lake are just one of the exciting features. Guests at the Hanoi Daewoo Hotel will find gracious amenities and the highest standards of comfort in all rooms.
* Grand Deluxe Rooms are exclusively located from the 6th to 13th floor ensuring an unrivalled view over Thu Le Lake.
* Club Rooms are located from the 14th to 17th floor, with an exclusive lounge, catering for the special needs of business travelers and guests enjoying the personalized service of hotel team. Non-smoking floors are available.
Facilities & Services Promenade Restaurant Grand lunch and dinner buffets feature a variety of salads, cold cuts, hot dishes and delightful desserts, plus Korean, Chinese and Japanese stations Edo Restaurant Indulge your senses with the best of the land of the Rising Sun's traditional cuisine and gracious service. Private rooms are available for your special lunches or events. Celebrate the weekend with EDO's sumptuous dinner buffet on Saturday and Sunday. Silk Road Restaurant Master Chef features traditional cuisine from key regions in China.
Shanghai, Canton, Sichuan are some of the main influences. Tantalize your taste buds with Char-grilled pork, double boiled shark fin soup, braised birds nest in chicken stock, braised abalone with wild mushrooms and much more. Palm Court Lobby Lounge From morning to night, make Palm Court your own! Whether for business or leisure, enjoy the refreshing view and tranquil atmosphere, and let our dedicated staff take care of all your needs. Le Gourmet Delicatessen Start your morning with a double espresso or stop by for lunch and choose from a wide range of sandwiches, salads and pastries. Le Gourmet offers a great selection of freshly baked breads, cookies, chocolates, pastries and gourmet specialties as well as a selection of imported wines and spirits. For cakes made to order, simply contact Le Gourmet team 24 hours in advance.
Lake View Sky Lounge Perk up with a cup of freshly brewed coffee or unwind with a long cocktail from the bar as you admire the sweeping panorama by day, or the wonderland of twinkling lights by night at this idyllic watering hole. Rise above the rest of Hanoi and watch the world go by in absolute comfort from the 18th floor. Fitness Center Hanoi Daewoo Hotel's Fitness-Center was awarded Vietnam's Best Fitness Center in 2002 and is open daily from 6:30 to 22:00. This state-of-the-art fitness centre offers cardiovascular equipment as well as an extensive range of weight-training machines and free weights. The aerobics studio is fitted with a wooden sprung floor and a home theatre system on which one of over 20 fitness videos may be played. The Fitness Center also includes a golf driving range and 80 meter swimming pool.

Spa services An exceptional experience for the mind, body and spirit, the Spa located in the Daewoo Fitness Center offers a selection of life-enhancing skin and body therapies. With a choice ranging from shiatsu through to traditional Vietnamese massage, the Spa is the destination when you need to relax. Conference Rooms & Capacity Many of the meeting rooms open out to sun terraces overlooking the scenic manicured garden and the adjacent Thu Le Lake...perfect for meetings and gatherings. Attention to detail, warm and personal service are essential to creating a memorable event. Hanoi Daewoo Hotel offers event/convention planners and unparalleled standard of professional service in a quiet, luxurious and intimate surrounding.