Silk Path Hotel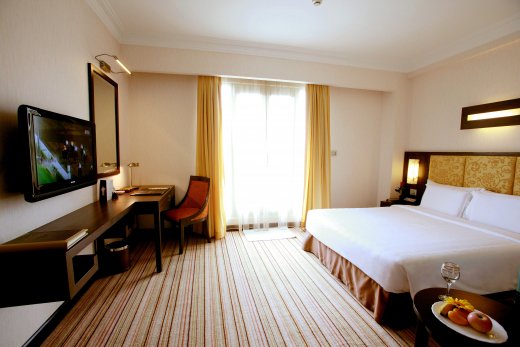 The Silk Path Hotel is the newest addition to Hanoi's top class hotel scene. It is an oasis of quiet elegance in the midst of the hustle and bustle of the inner city. It's a short stroll from the modern purveyors of fine silk in Hang Gai, the fascinating maze of streets in the old city, the villas of the French Quarter, the shaded green waters of Hoan Kiem lake at the city's center, boutiques and galleries in the lanes and alleys that lead into the precinct of St Joseph's Cathedral. Accommodation The Silk Path's 106 guest rooms epitomize and restate that this hotel is truly a symphony of comfort.
The superb Presidential Suite on the eighth floor, with panoramic views over the city, is a concert of tasteful design. Other Deluxe and Executive rooms are perfectly appointed will all amenities. Stay while indulging through the most up to date gleaming facilities any guest could expect. President Suite Located on the eighth floor of this ivory building it is a contemporary designed stylish suite that provides the ultimate relaxing ambiance. The signature Presidential Suite offers a comfortable lounge area, private Jacuzzi and sauna, a fully equipped kitchenette and a full mini bar...
Executive Room With their comfort and luxury amenities Executive rooms will be an excellent choice for the businessmen or travelers who require personalized attention and services. Deluxe Room Each of the Deluxe rooms is designed sophisticatedly and decorated with modern Vietnamese paintings. This category, generous in facilities and amenities, is the preferred choice.
Services and Facilities La Soie De Hanoi Restaurant La Soie de Hanoi – Silk of Hanoi – on the first floor offers exquisite fine dining in an atmosphere of restrained, caressing luxury. It is a truly silken experience where to wine and dine. A carefully chosen cellar of mellow wines perfectly complements the dishes, both western and Vietnamese. The presented dishes are expertly prepared by the Silk Path's world class chef. Mediterranean Restaurant Indulge your senses with the best of the Mediterranean cuisine and gracious service. While enjoying your favorite wines, you can observe how our chefs prepare pizzas baked to your personal liking in a wood fired oven ensuring an aromatic and cheesy flavor.
Piano Bar Adjoining La Soie de Hanoi you can find the stylishly elegant Piano Bar. It's hard to imagine a more enticing space to share a cocktail or a chilled white wine before dinner or a more accommodating place to enjoy the Silk Path's calm serenity after a shopping or sightseeing adventure. Take some time to listen to our piano virtuoso every Friday and Saturday from 6.30pm to 9.30pm. Reading Lounge Located at the third floor, the Reading Lounge offers a tranquil atmosphere for reading magazines, newspapers or surfing the internet through our WIFI connection. Business Center The Business Center offers a range of services including facsimile, photocopy, secretarial, courier and private computer with internet connection.
Fitness center The Fitness center is a state of art exercise room with well-trained staff on hand, with a Sauna that evokes Scandinavian freshness, and a Steam bath with panoramic view that reaches across the tree tops of Hoan Kiem Lake. The Spa Bar offers garden fresh and healthy fruit juices and milk shakes. Silks Premium Bar Silks Premium Bar is adjacent to the casual comfort of Bellisimo. It is a place to relax after a day's hard work or to start off a great night. Intimate booths and an inclusive bar satisfy all moods. Evening happy hours, accompanied by tasty snacks or freshly baked pizza, are at offer.