Ban Gioc Waterfalls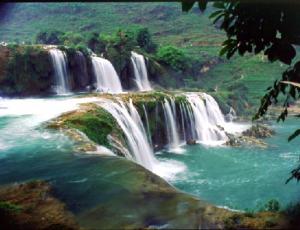 If you're heading to Cao Bang Province of Hanoi on your next trip, chances are you've heard of the majestic Ban Gioc Waterfall. Through time, it has become a favorite destination for both local and foreign tourists alike because of its awesome beauty and power. Falling down a high 30 meters to the ground, the thunderous sound of the water can be heard as far as several kilometers away.

Ban Gioc Waterfall is located in Dam Thuy Commune in the Trung Khanh District 272 kilometers away from Hanoi. It is formed from the great Quy Xuan River which flows across the border from China, along the Co Muong Mountain, through beautiful rice and maize fields, splitting and then finally cascading down a spectacular 30-meter drop to form the awesome Ban Gioc Waterfall. At the foot of the falls is a big river surrounded by different kinds of exotic flowers and plants. Bamboo raft rides are available for tourists so they can bask in the full beauty and power of the falls.

Aside from its breathtaking effect, Ban Gioc Waterfall is also known for its "tram huong," a very popular kind of fish. History has it that in the early 1920s, some French people built small houses along the riverbanks because they fell in love with the place. They stayed along the falls to relax, hunt for the famous "tram huong" and even hunt for deer. Today, the falls is often frequented by tourists from all over the world. Between May to September is the best time to visit the falls when it is at its utmost glory.

Just three kilometers away from the breathtaking falls are the Nguom Ngao Caves in Trung Khanh District's Gun Village. Here, you can see a limestone grotto full of spectacular stalactites and stalagmites. The caves were discovered in 1921 by local residents but it wasn't until 2006 when it was opened to the public. The caves are a paradise of limestone formations of all kinds. Mythical animals, sweeping boughs, tangled plants, spires, canopies, and even fairies can be found in the caves, leaving you totally in awe. Some of the famous formations in the caves are one that looks like a giant coral and one that is similar to an inverted lotus.

Though the Ban Gioc Waterfall never runs dry, the volume of water varies a great deal between the dry and rainy months. But all in all, the perfect harmony between the river, mountains, forest, plants and flowers, animals, villages, people, and the great Ban Gioc Waterfall itself is a poetic beauty and power only nature can deliver.