Tam Dao National Park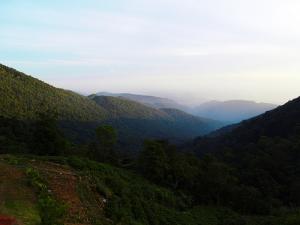 Tam Dao, located about 70km north of Hanoi, was recognised as a National Park in March 1996. It extends 80km in the northwest and southeast direction, bordering the provinces of Thai Nguyen, Tuyen Quang and Vinh Phuc. With a total area of about 36,900ha, it is one of the largest national parks in Vietnam and one of the last natural areas close to urban Hanoi which has not been transformed into agricultural land. Tam Dao national park can be reached following National Road No.2 to Vinh Yen Town (Vinh Phuc Province) where you should turn right in to National Road No.2B and go further about 13km. Tam Dao is in a vast high mountainous region affected by tropical humid monsoons. The average temperature during the year is 22.9 C.
It is ideal to visit in the summer and enjoy the fresh, pure and cooling air, beautiful scenery. There are two touristic sites in the park. The first is Tam Dao town which established in the beginning of the 20th century. Tam Dao is nestled in a valley covering only 3 km2. There now remain some villas and places built by French colonists. It has Thac Bac (the Silver Fall), Rung Rinh peak and Tam Dao Nr. 2, a remnant of another resort built many years ago. The second tourist location is Tay Thien site. It includes Tay Thien Quoc Mau Temple (literally the "Temple of East Heaven National Mother") and several pagodas. Along with Thien Vien Truc Lam (literally "Zen Center in Bamboo Forest") in Dalat and Yen Tu, Thien Vien Truc Lam Tay Thien here is a centre of Vietnamese Buddhism.
The area is rich in biodiversity and is home to species found in other ecosystems in the region, ranging from the rain forests of South-East Asia to the alpine forests of the eastern Himalaya. The park has a forest of Do Quyen trees ( Rhododendron simii) that blossom in spring, limpid Xa Huong Lake, Silver Waterfall in the middle of evergreen forests all the year round. Tam Dao National Park is covered by a rich flora, consisting of 490 species from 34 genera and 130 families (64 of which are listed in Vietnam Red book of endangered species).
There is a great deal of rare plants, such as Sam bong, Permu (fokienia hodginsir), Kim Giao (polo carpus fleuryi), Lat Hoa (chukrasta tabularies), Thong Tre (Podocarpus nerliforlius), Sen Mat (Madhuca pasquieri). Tam Dao National Park is also home to 281 species of fauna from 281 genera, 84 families and 26 orders belonging to 4 main classes animals, birds, reptiles and amphibious ones. Among the variety of life forms in the park are several rare species (56 of which are registered in Vietnam's Red Book) including cheek black monkey, Tam Dao snake-head fish, silver pheasant wood grouse etc.