L'Anmien Beach Resort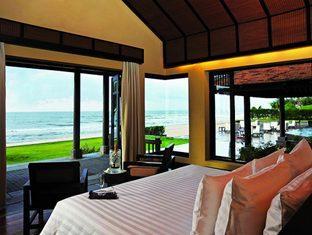 Beautifully situated along the beach front of Mui Ne, L'Anmien Beach Resort is blessed with a fresh water lagoon amidst serene lush tropical gardens that highlight the resort's enormous swimming pool and 19 luxurious Villas, each with its private pools and outdoor dining pavilion. The Resort's main building has 70 rooms, which were designed and built with a modern contemporary look that has been blended in harmony with Vietnamese culture in a well crafted décor.

Every traveler of all ages will experience supreme luxury combined with the utmost relaxation, while being surrounded in exceptional natural beauty, to create your dream holiday get-away.

The resort is located next to the fishing village of Mui Ne, which is located 200km northeast of Ho Chi Minh City on the coast of the South China Sea. It is recognized as one of the most idyllic seaside resorts in Vietnam, famous for its long and beautiful beaches, stunning mountains and its desert like sand dunes. Mui Ne also enjoys some of the finest weather in Vietnam with the lowest annual rainfall in the entire country.