Thien Mu Pagoda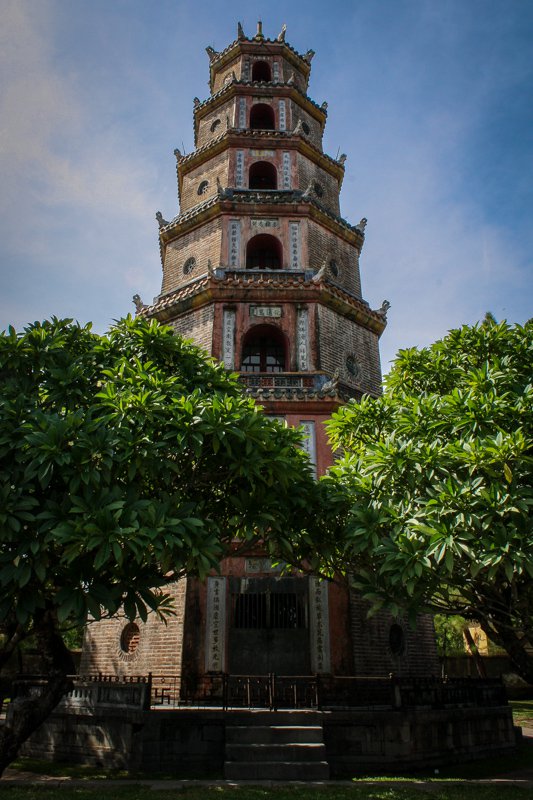 The Thiên Mụ Pagoda was constructed 1601 by Nguyễn Hoàng (1525-1613), who was the ruler of southern part of Viet Nam. He followed an old legend, saying that a Holly Lady has often appeared, who predicted that one day, a popular leader of the country will establish a pagoda at this hill for the sake of the country peace and prosperity. He then ordered to build this pagoda in order to fulfill the prophecy. The pagoda Thiên Mụ (Pagoda of the heavenly woman) lies on the bench of the Perfume River (Hương Giang), approx. 5 km von Huế, in the suburb Kim Long. It can be reached by taxi (appr. 4 USD), or – with more spectacular views - by boat ("dragon boat") from Huế.
Going up the stairs to the entrance of the Pagoda complex, you will stand in front of one of one of the most photographed landmarks of Viet Nam: an octagonal, 27 meters high tower, Tháp Phước Duyên, which is the iconic part of the Thiên Mụ Pagoda. The tower with the seven floors symbolizing different reincarnations of Buddha was built 1844 by Emperor Thiệu Trị (1807-1847) at the entrance of the pagoda complex. The view from there to the hillside and to the Perfume River is spectacular; the pagoda behind the tower is worth a visit. Beside the tower is another pavilion homing a 2052kg heavy bell (Dai Hong Chung). The bell, cast in 1710, is impressive and, if you stand beside it, one can feel the tranquility of the whole atmosphere, even in the midst of frequenting tourist streams. The rear part of the pagoda complex hosts a beautiful garden, which grants peace and recovery to the eye. Here is the main temple of the pagoda with a statue of the Buddha Maitreya (Phật Di Lặc).
The monastery is still active, hosting a large number of Buddhism monks. Vietnam.com's tip (trip to Thien Mu pagoda): Take a boattrip from Hue, join an organized tour or rent your private boat ((boat rental office between Truong Tien Bridge and Phu Xuan Bridge, appr. 600000 VND (ca. 33 USD) for 4 hours boat ride, up to 6 persons). The boat will take you to Thien Mu pagoda, after that you can go further with the boat to Dien Hon Chen and then to Minh Mang's tomb before heading back to Hue. On the way back, you could stop at Kim Long village for a famous bowl of Bun Thit Nuong (grilled meat with rice vermicelli). Negotiate the fare and the stops you wish before departing.