Hanh Dat Hotel Hue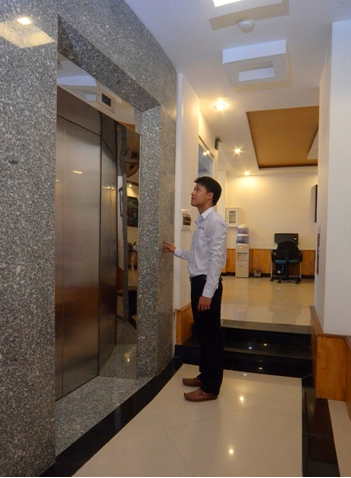 Hanh Dat Hotel is located in the center of Hue City next to the Nhu Y River which is harmonically connected with the calm and peaceful Perfume River. This 3-star hotel with its 30 rooms is the ideal choice for visitors to enjoy the panorama of Hue City - the tourism Mecca of Vietnam, known for two UNESCO cultural heritages. The special feature of Hanh Dat Hotel is the harmony between the luxurious style of modern interior design and the scenery of green trees beside Nhu Y River and the poetic Perfume River. These experiences will give visitors an unforgettable impression.
From Hanh Dat Hotel, within a radius of 1 km, visitors can comfortably walk around the commercial areas such as Big C supermarket, Dong Ba Market, and the shopping street of souvenir items in Hue such as Pham Ngu Lao, Chu Van An, Le Loi, ...
And especially it is very convenient for visitors to enjoy tourist attractions such as the ancient royal citadel of Hue. Accommodation The Superior River View room is quite suitable for those who would like to stay independently like couples on their honeymoon in Hue. Here, visitors can enjoy Nhu Y River, pure and blue, looking up the poetic Perfume River. Superior River View is the ideal choice for visitors to look at the panorama of Hue City in the sunset from a high view. The Deluxe River View room is designed spaciously and elegantly for visitors to enjoy the panoramic view of Hue City and overlook many landmarks such as the Perfume River, Nhu Y River, Ngu Binh Mountain.
In particular Deluxe River View room offers a private balcony for visitors to experience the nature of Hue during their stay at Hanh Dat Hotel. The Family Deluxe room of Hanh Dat Hotel is suitable for visitors who travel in groups or families of 3 to 4 members. The room area is up to 40m² to give visitors an ideal relaxation space. In particular Family room offers wide windows for its visitor to enjoy the scene of Hue City, the activities of Hue people living along Nhu Y river banks, the people up and down Vi Da Bridge and especially enjoy the scenic view of the sunset in the late afternoon.
The Executive Suite River offers spacious balcony to enjoy the entire city of Hue. The room which harmoniously combines the style of modern interior design and healthy living environment will give visitors peaceful sleep and moments of relaxation to forget all troubles of daily life. Hanh Dat restaurant Visitors at Hanh Dat Hotel can experience the new space of Hanh Dat restaurant with European and Asian dishes and especially enjoy Hue Specialties cooked by professional chefs.
Visitors can also watch the whole scene of Hue City while enjoying their food. Sky bar - café Sky Bar – Hanh Dat Café lies in the 7th floor of the hotel, the entire interior here is carefully selected and arranged in the hotel's own style. Other services * Pick-up service at train station and airport * Car, motorbike and bicycle rental * 24 hour room service * Meals on request * Laundry service within same day * Taxi service * Postal and parcel service * Booking train, airplane and tour tickets * Foreign exchange * Organize conference & events * Free Wireless and ADSL Internet * VISA extension instruction * Luggage storage * Withdraw Cash with Credit Card at reception desk