Yen Tu Spring Festival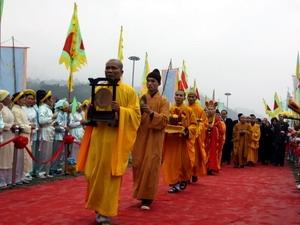 The Yen Tu Spring Festival officially opened last Saturday, February 12, on the Yen Tu Mountain, one of the most sacred Buddhist sites in the country. The celebration will last three months, a very important annual celebration in Vietnam in honor of King Tran Nhan Tong, who ruled over the country from 1279-1293 but stepped down from his reign to devote his life to Buddhism.

Yen Tu Mountain is located about 50 kilometers from Ha Long Town in the northern province of Quang Ninh. It has a naturally breathtaking view along with beautiful, ancient pagodas and hermitages, which must have inspired King Tran Nhan Tong to give up his kingship to dedicate his life being a Buddhist monk. He passed on his crown to his son who took over the kingdom. At Yen Tu Mountain, Tong formed the Truc Lam meditation sect which later on made the place known as the country's prominent place of worship for Buddhism. Since then, Yen Tu has received more than 20,000 visitors since the first day of the lunar year. Last year alone, more than 2.1 million tourists visited the place.

During the opening ceremony of the spring festival, famous dignitaries such as Deputy Prime Minister Nguyen Thien Nhan, Vice President Nguyen Thi Doan and Vice Chairman of the Vietnam Buddhist Sangha's Executive Council Most Venerable Thich Thanh Tu. They, along with the Buddhist dignitaries, monks, nuns, followers and visitors, all offered incense to the king-turned-monk. A ceremony followed praying for the peace of the country and its people. After the ceremony, it was time for entertainment. Everyone was amazed and impressed with an elaborate and creative performances of martial arts, cheo (traditional operetta), dragon and unicorn dances.