A Tribute to Ba Khia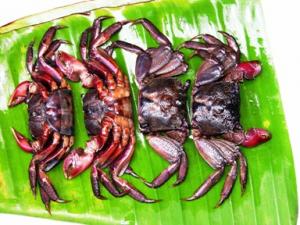 Ba khia is a three-striped crab that lives in the wetlands and considered a delicacy in the southern coastal provinces of Bac Lieu and Ca Mau. When it used to be a merely salty addition to most meals in the Mekong delta, it has now gained popularity in major cities and prepared in more elaborate ways than its previous simple cooking.

Ba khia crabs have purplish pincers and eight hairy legs. Their underbellies are usually ruddy and their insides are always flavorful with either an orange or grey color. They commonly dwell in brackish coastal mangrove forests where they hide all day long and come out at night to look for food.

In honor of these tasty crabs, coastal farming communities in the area hold a weekend festival before the harvest season begins. The festival is usually celebrated on the tenth month of the lunar calendar wherein the farming community members wait for nightfall when the creatures come out to feed on outlying branches. Crab hunters harvest ba khia by shaking the trees vigorously, causing the crabs to fall off and lay exposed. Children quickly pick up the creatures and place them in buckets and wives/mothers are already waiting prepared to cook the delicious crabs.

One way of cooking ba khia is to clean and steam them on a pot. But the most popular way of cooking them is to clean, soak in salt water and preserve them for about seven days. This process will keep the crabs fresh for an unbelievably one year. They can be eaten alone with rice or shredded and sprinkled with lime, chili, garlic and sugar. They are best paired with fresh vegetables and herbs.

Before, ba khia has always been treated as a provincial, poor man's dish. But through time, the flavorful crabs caught up and today are served in fancy restaurants in the major cities in Vietnam. From its usual, simple cooking, ba khia today is served in more elaborate ways. Some restaurants even steam the crabs in beer. Salted ba khia can now be bought in supermarkets and other stores.

If you're in Ho Chi Minh City, you can have a taste of this heavenly crab at 79 Restaurant located in 3D Hoa Binh Street, Ward 3, District 11. The restaurant's telephone number is (08) 3 963 8272. If you're in the mood for a rice porridge, dine at Ba Khia Restaurant at Hang Xanh in Binh Thanh District. The restaurant is open from 4pm up to midnight. A typical Ba khia dish is about VND30,000 per serving.