Asean Halong Hotel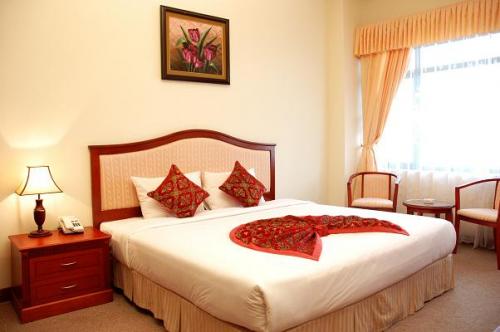 Ideally located in the center of Halong tourism, Asean Halong Hotel is an international standard 4-star hotel with 101 luxurious and modern rooms. Its warmth and modern European setting makes you feel at home while at the same time offering you a lifestyle experience.
Hotel service team of dedication, professionalism and hospitality will leave you lasting impression from your ever - first visit. Asean Halong Hotel proves to be an ideal choice whether for your leisure or business. Accommodation Asean Halong Hotel has luxurious, spacious and stylistically furnished rooms like: good air conditioner, heater system, center hot water system, satellite TV system, in room safe deposit box, bath tub, free wife access....
A strong point of the hotel is that most of rooms have bay views. This enable guests to enjoy the fresh air and beautiful natural landscape of Halong Bay, twice recognized by UNESCO for the particular values of appearance and geology. Room types: Superior, Deluxe, Suite All rooms features: Sea view, Tourist wharf or Bai Chay Bridge view, King-size bed or twin beds, Satellite TV… Restaurant & Bar Elegant Elegant Restaurant is located next to hotel swimming pool offers A la carte menus, set menus or breakfast buffet, complete with local cuisines that appeal to all tastes.
Oriental Oriental restaurant which could serve 300 guests is suitable to all occasions from intimate private party to large corporate events. Mystery Bar Mystery Bar could serve special 3 in 1 coffee cocktail local beer, with music and beautiful view from Ha Long Bay - The world heritage.
Meeting Room Asean Halong Hotel enjoys a well-earned reputation for excellence in the field of banqueting and catering. The meeting rooms are equipped with the latest conference facilities and elegantly decorated for achieving a very professional but warm atmosphere for meetings and events. Leisure Massage Comfortable sauna and massage services will take you on exhilarating journeys with special skills and personal care. Swimming pool Relax and unwind by the outdoor swimming pool open to sea view and Bai Chay Bridge. Snacks and beverages are served upon request. Fitness Center Close to the swimming pool, the Fitness Center is fully equipped with modern equipment. Its service is free of charge for in-house guests.